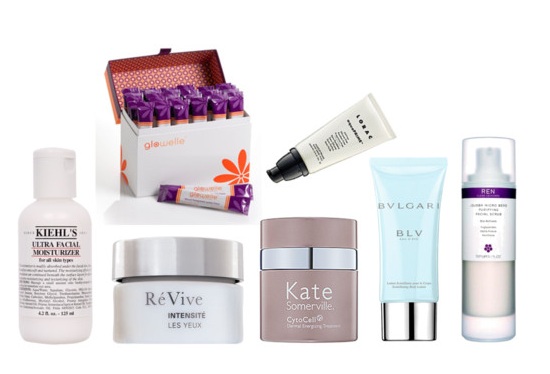 Besides clothing and accessories, my other obsession is skincare products. I love trying new products because when you find that right one, your skin feels absolutely amazing…which in turn makes YOU feel amazing. There are thousands of brands out there and I'm sure they're all great! A few of my favorites include SkinCeuticals, NARS Skin, REN, and Kiehl's.
Keep in mind, when putting an outfit together…nothing is complete without hair and makeup right? For a flawless look, it all starts with the skin, which is why it is very important to take care of it. Here are a few simple steps to take everyday in order to maintain great skin.
Always wash your face before bed. We, women, usually wear makeup (in some way, shape or form) everyday and it is important to wash that off before we sleep in order to prevent dirt build-up, clogged pores, etc.
A little eye cream can go a long way! The area under your eyes is much more sensitive than the rest of your face, and usually needs extra moisture. There are so many eye creams out there so choose the one that's best for you (extra moisture, anti-aging, reduce puffiness, etc.) in order to receive the best results.
Speaking of moisture, a great moisturizer is key to any skincare routine. I recommend using one with at least SPF 15 for every morning (depending your sensitivity to the sun) and an extra-hydrating moisturizer before bed.
**Keep in mind these are general tips for everyone. Finding the right skincare products for you depends on your type of skin (oily, dry, combination, normal, sensitive, etc.) and what you are looking for (eliminate acne, anti-aging, etc.).
——————————
So with this all said, I am very excited to announce that Shop Influence (Chicago's own, Corri McFadden's sister brand to eDrop-Off) and I are doing a skincare giveaway on Twitter! One lucky tweeter will receive a skincare goody-bag filled with products from REN, Lorac, Bvglari, Kate Sommerville and more!
Here are the official rules to enter:
You must be following BOTH @ChiCityFashion and @ShopInfluence on Twitter
Retweet the message: "I want to win a skincare goodybag from @ChiCityFashion & @ShopInfluence"
Each RT counts as an entry
One lucky winner will be chosen on Friday, July 30
Good luck!
You might want to check out...