Because I had a birthday celebration last night, my actual birthday is tomorrow and I want to do as little as possible in between…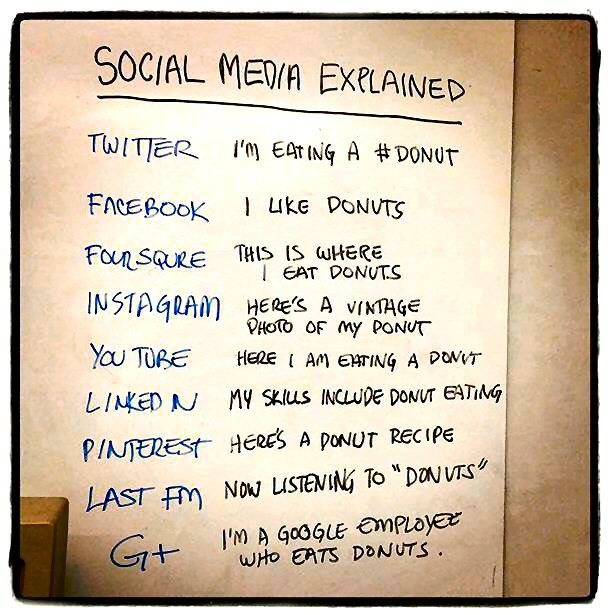 I wanted to talk about social media for a second. If you're ever feeling overwhelmed with all of the sites you're "supposed to be on" and are struggling for the words (or photos) you want to put out there, then this is for you. Let me give you some advice…there are more important things in life than what Instagram filter to use on your sandwich. I promise! (but always know that you can't go wrong with Valencia or Hudson).
I too struggle with figuring out how I should differentiate my sites. Do you really want to see me posting about the same stuff on all of my social media outlets? Is it really necessary to send your Instagrams to your Twitter, Facebook AND Tumblr? Absolutely not. Living the social life isn't easy, but if you want to be a part of this world, you should do it right.
Only join the social media sites you think you'll actually use. If you sign up and realize "there is no way I am uploading looped videos every day" (re: Vine) then don't feel like you have to upload looped videos everyday. Stick with what you know and like, and the FOMO will disappear. I think I'm pretty good about updating my social media sites, but I don't let it consume my life. I update Facebook 1-2 times per day (sometimes with some exclusive information…hint hint). I started on Twitter (before I even had a blog) so it kind of has sentimental value to me…I will always be a Tweeter. I made a Tumblr before Pinterest existed, and I'm not going to lie…I totally prefer my Tumblr page. BUT I am on Pinterest and I still haven't decided whether it not it makes me feel inspired or completely undomesticated. I mean, who isn't on Instagram? (although I don't think I enjoy it nearly as much as everyone else does…talk to me when you can click links in the app. It is 2013 after all). I'm also on Vine, Pose and Keep. I update Pose once a week, Keep a few times a week and Vine like once a month (it was really exciting during fashion week then I kind of lost interest). I recently joined Lookbook.nu and realized there's a lot of photogenic people out there…I am not one of them. I don't do Foursquare or Google + because let's be honest…I've already lost track of the amount of sites I'm on.
So now that you've heard me ramble about social media. I'm going to enjoy the rest of my day "off." Get excited for a very special post coming tomorrow…
Image via blog.larrybodine.com
You might want to check out...