I haven't done one of these Throwback Thursday posts in a while, and considering today's the first official day of NYFW, why not reminisce about my favorite season of all time? Let's talk about that Spring 2011 runway…the good old days.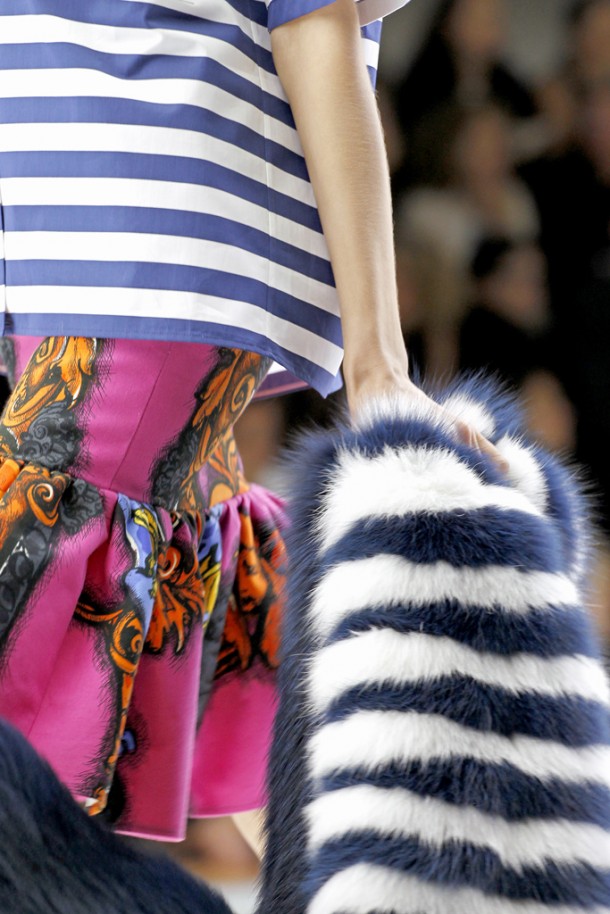 It's not like I spend most of my time dreaming about old collections, but every once in a while I'll look in my closet and want to wear a piece from SS11 or I'll see something online that reminds me of the trends that were "in" at the time. There's something about all the whimsy and colorfulness of those collections that really stood out to me and makes me love these pieces, whether or not they're "out of season," to this day. Plus, Spring 2011 was my first time attending fashion week for the entire time (I had been to one show the previous season) so those runways are sort of sentimental for me (who knew a few years later, I'd be avoiding fashion week like the plague?)
I thought about writing this post last night as I went through my closet to get ready for an event, and I actually wanted to wear this t-shirt and skirt combo from Prada Spring 2011. Unfortunately, my ass is not the same size it was in 2011 and the skirt is definitely on the fitted side (see below, on the right) so that didn't happen. But what did happen is even better — I ran into a friend last night wearing a dress from the very same collection. They're all very bold pieces so it's not like you can wear them all the time, but I couldn't believe of all things we were somehow both feeling the exact same collection on the same night (although I opted for a loose Proenza Fall 2010 piece instead). So that's what inspired today's post, and now I'll show you why SS11 was so damn good.
Perhaps the greatest Prada collection of all time, this is one you really cannot forget. Bananas, stripes, monkeys…you can't help but smile at these clothes. This was also one of those collections where I did a little stalking (I just couldn't imagine my life without those sunglasses) so this is one Prada moment I'll always remember (and one day I will fit into that skirt again!)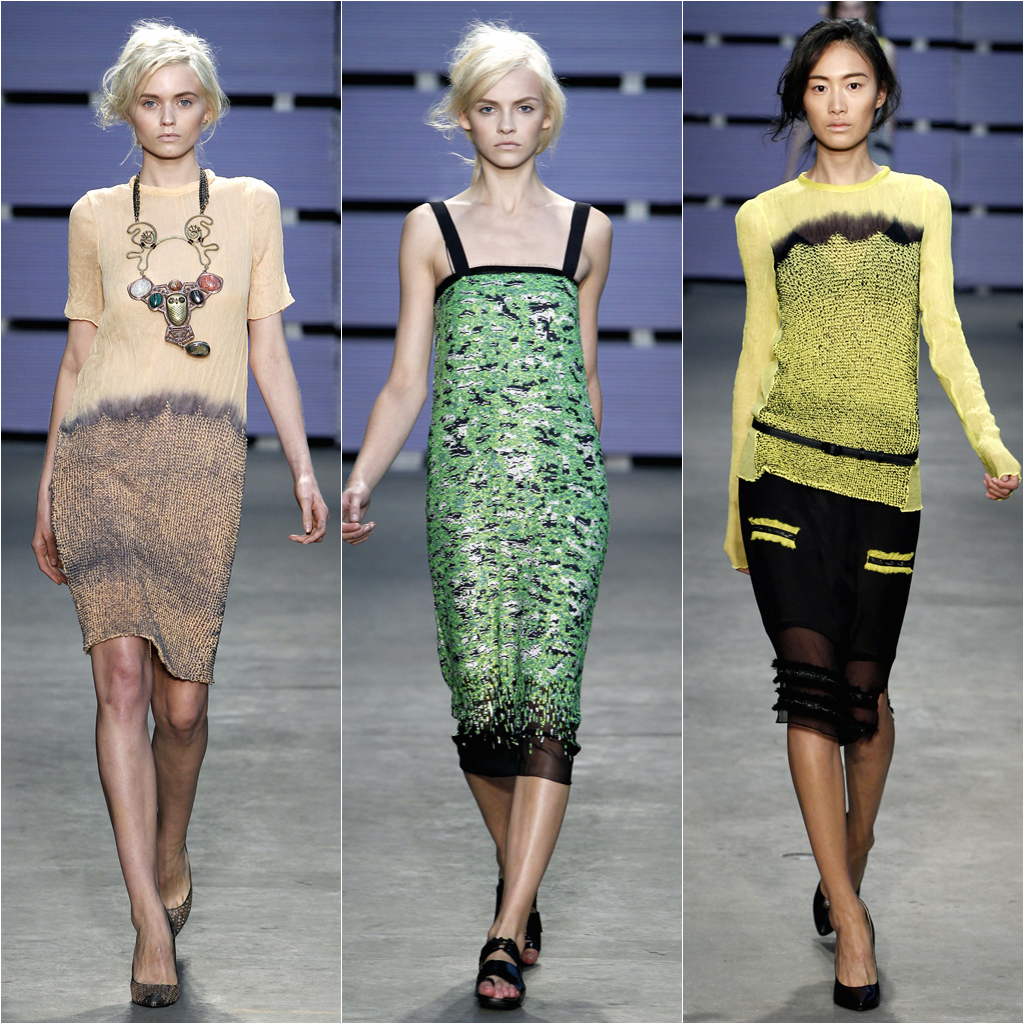 Although my favorite Proenza Schouler collection was Spring 2010 (to this day, it is still the background on my phone…not my dogs, not my boyfriend…Proenza SS10) Spring 2011 is a close second. Their previous collection was really funky and this was the first time the looks started to get a bit more ladylike — nothing too feminine of course, but still with that Proenza edge.
If Prada kills it, you know Miu Miu will too. Those starburst prints were spot on and those crazy ass leather jackets? SO. GOOD.
Like Prada (and a majority of SS11 collections), Gucci was all about color blocking. From what I remember, I believe this collection showed up on the cover of more magazines than any other designer that year. Everything was so vibrant, it really is the ideal collection for that sort of thing. But it wasn't just the magazines who were won over — celebrities like Olivia Wilde, Kim Kardashian, and Kerry Washington were just a few of the many who wore these looks to various red carpet events. Which is why I'll never be able to get that jumpsuit out of my head…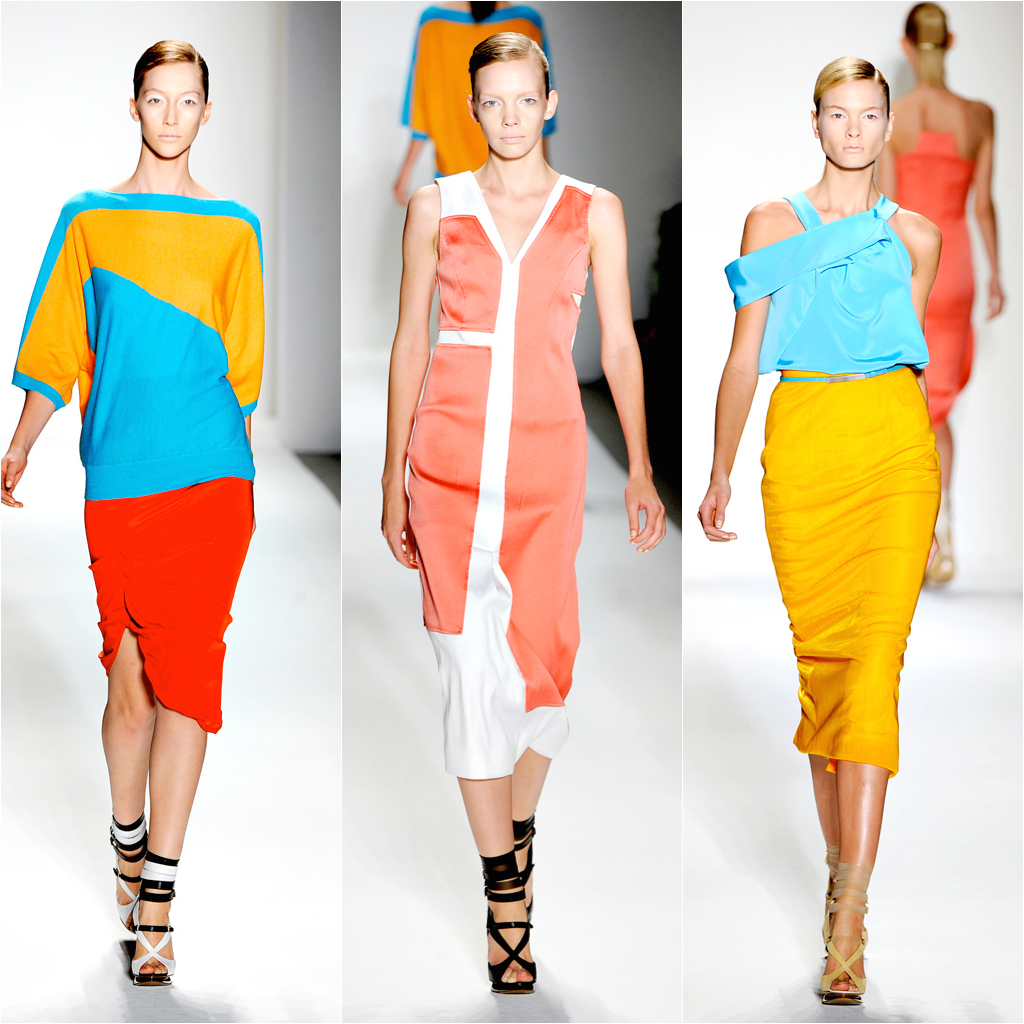 Continuing with color blocking, Prabal Gurung was no stranger to this. He did show some lighter pieces throughout the collection, but these looks were by far the most memorable. I never thought you could wear blue, yellow and red together before but Prabal makes me reconsider my feelings towards that color combo.
Spring 2011 basically made it impossible to avoid color blocking — Louis Vuitton was no exception. Most of the collections from this season were fun and playful, but this one took color blocking in more of a sultry direction (which is an odd way to describe the trend but you get it, right?) And because Marc Jacobs was still at Louis Vuitton at the time, there was a little resemblance for his own collection…
The Marc Jacobs SS11 collection as a whole reminded me of a less seductive, more retro version of Louis Vuitton. Big hats, big hair, high-waisted everything — this was another collection that was in just about every magazine at the time.
I remember obsessing over this Christopher Kane collection because I was still in my "it shouldn't be on if it isn't neon" phase. But laser cut floral leather? How can you possibly resist?!
It was this very Jil Sander collection that made me want to try the whole t-shirt tucked into a ball skirt look. I still haven't gotten around to it but don't you think I forgot. Plus, everything was oversized so you know I'm sold.
And going in the complete opposite direction of everything we just saw, Dolce & Gabbana did an [almost] all white collection that not only made wearing head-to-toe white cool, but also started that see-through dress over granny panties and bra trend (which is still happening today…at music festivals worldwide).
—
Did you have any favorite Spring 2011 collections? Was there another previous season that you especially loved?
Images via Style.com
You might want to check out...