I kind of hate the play on words with haute and hot, but considering couture week is coming to a close…I just had to.
Besides sneakers and elbow pads at Chanel, let's see what went down at the Spring 2014 couture shows.
This is definitely one of my favorite Chanel couture collections to date. Knee pads and Chanel suits? Life doesn't get much better than that.
So, what else happened on those oh-so-prestigous runways?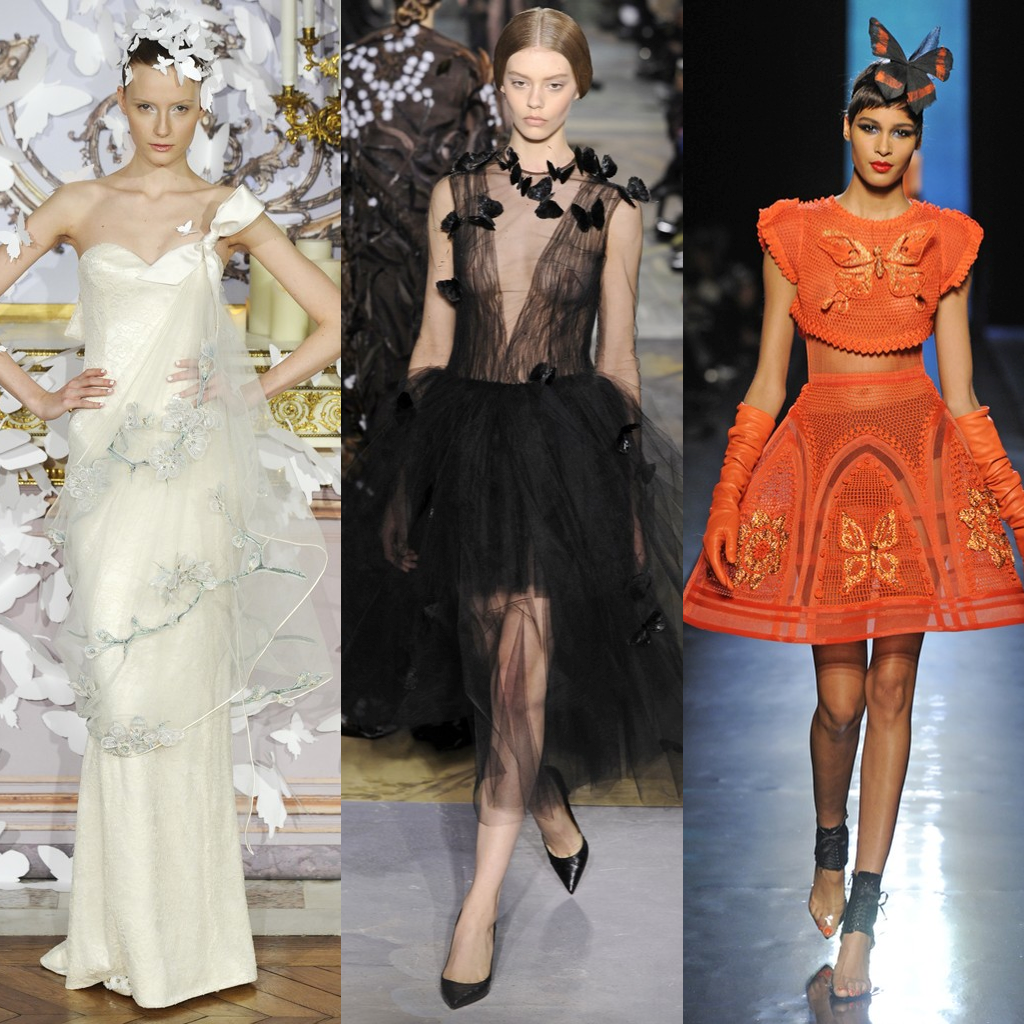 Butterflies. Random, I know. Alexis Mabille, Valentino and Jean Paul Gaultier all incorporated butterflies into their couture collections in one way or another (although JPG took it to another level). Inspired by Mariah Carey circa 1997 perhaps?
All black everything. Not ground breaking but when it comes to couture, you expect all this avant grade madness. And sometimes you just need to get back to the basics — re: Alexandre Vauthier, Bouchra Jarrar, Dior. And if I don't see Kate Moss in the Alexandre Vauthier look (bustier top with jacket as cape) in the next year, I'm going to be one disappointed fan.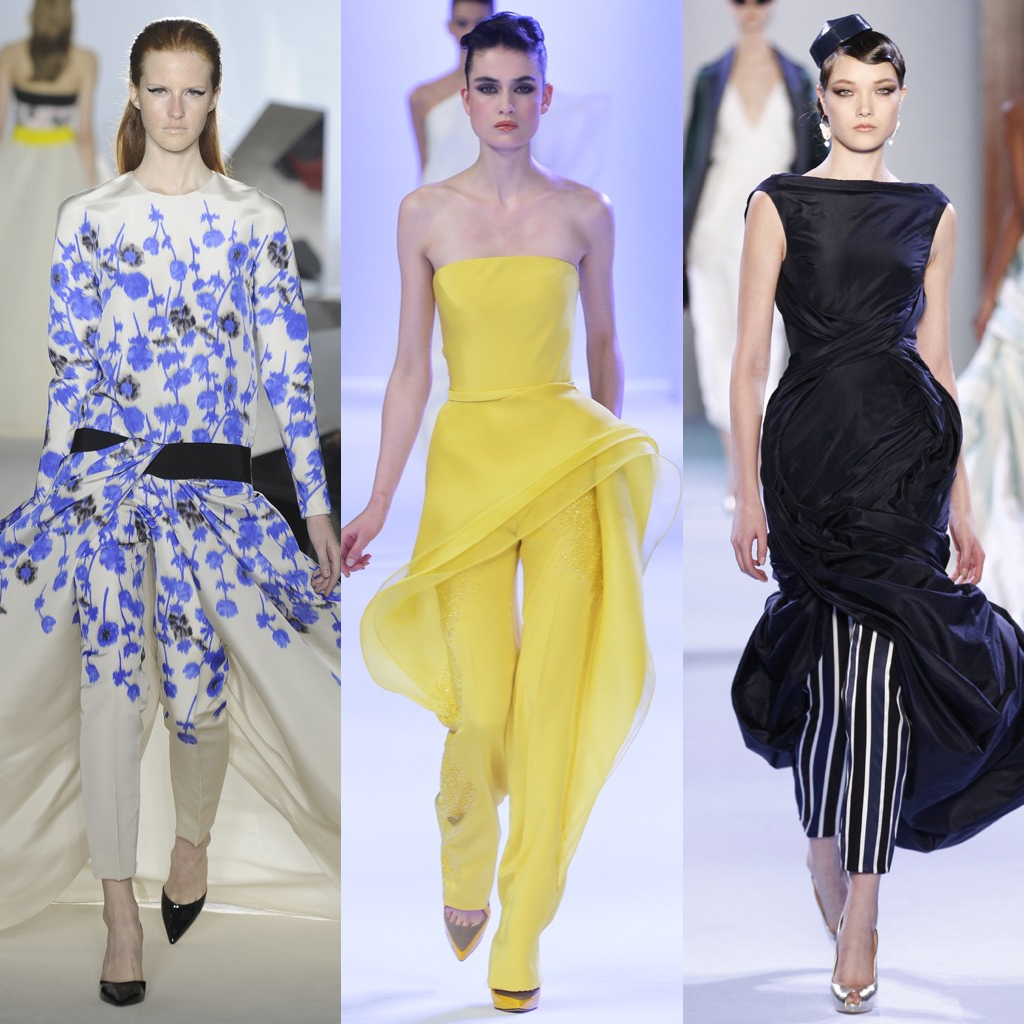 Dress with pants. This always seems to be a trend on the couture runways. Designers like Giambattista Valli, Stephane Rolland and Ulyana Sergeenko were just some of the few do show the unconventional pairing for Spring 2014. I'd love to see someone wear that printed Giambattista number to some red carpet event (maybe too casual for the Oscars but a premiere wouldn't hurt).
Cut outs. This was a big read-to-wear trend a few seasons back but it seems like maybe the couture collections are jumping in late in the game? I don't mind the look but when it comes to leopard and belly buttons, I'm not sold (apologies to Alexandre Gauthier and Alexis Mabille). And although Ulyana Sergeenko showed neither of the two, I can't get behind anything red and shiny. Ever.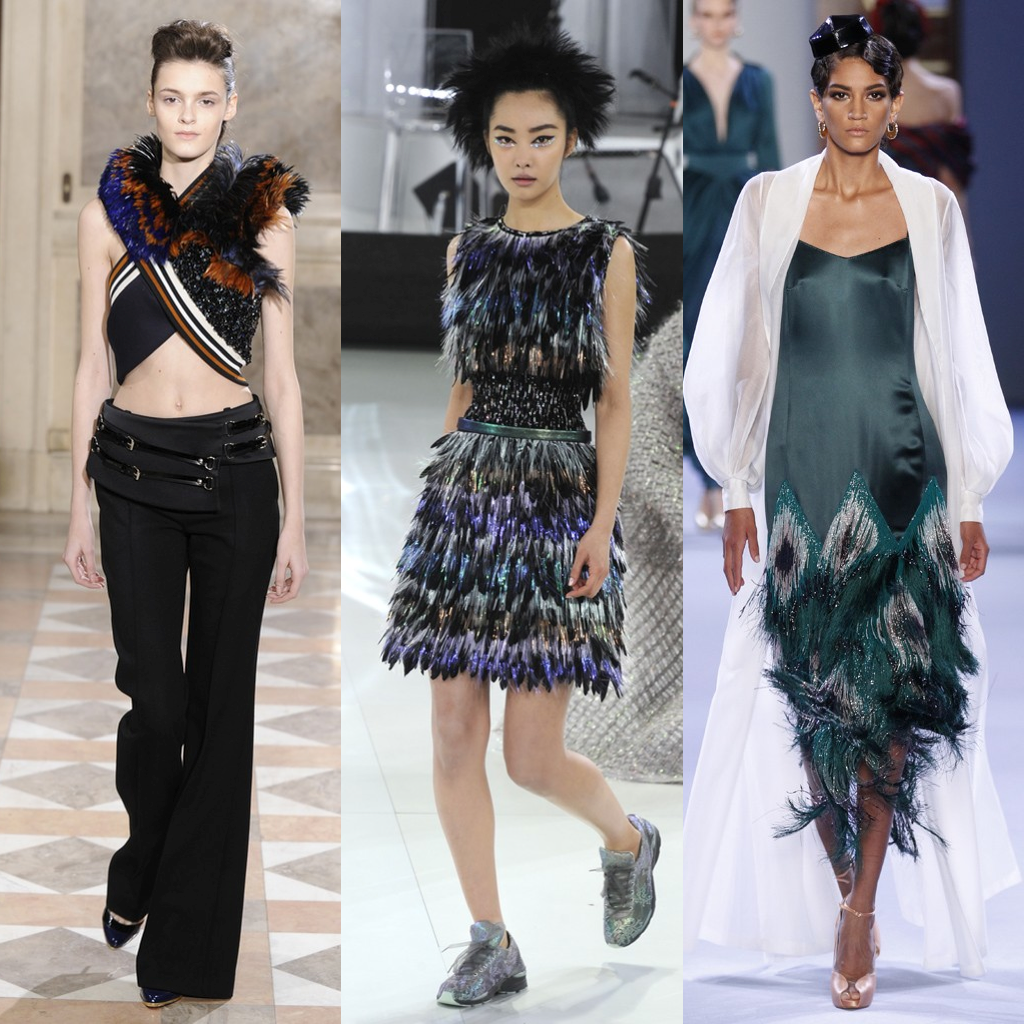 Feathers, fringe and feathered fringe/fringed feathers, seen at Bouchra Jarrar, Chanel and Ulyana Sergeenko. Now this is where the party happens.
Literal prints. Thanks to Margiela, Schiaparelli and Valentino…what you see is what you get.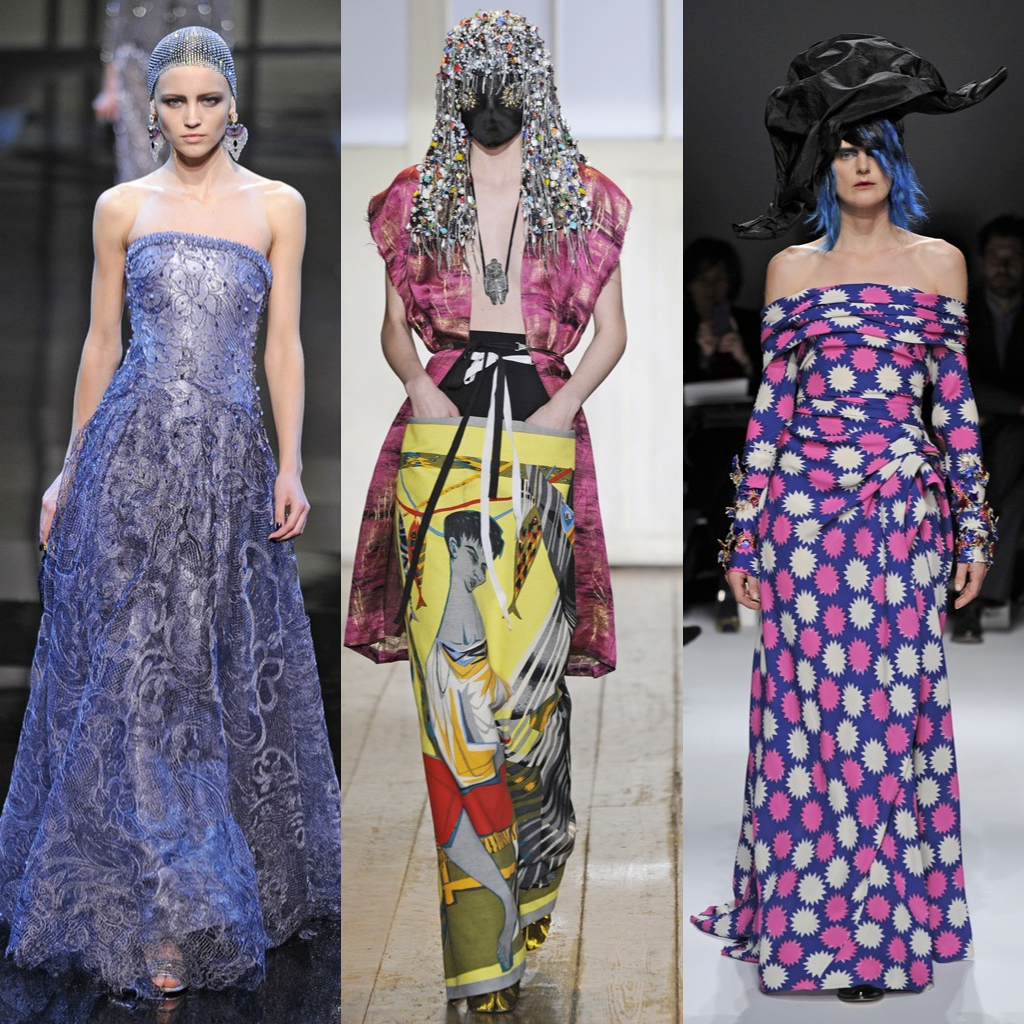 Headpieces. It wouldn't be couture week without some crazy ass head gear. Although Armani Prive wasn't too out there…Margiela and Schiaparelli are another story (Margiela specifically looks like the couture version of Cleopatra who may or may not kill me in my sleep).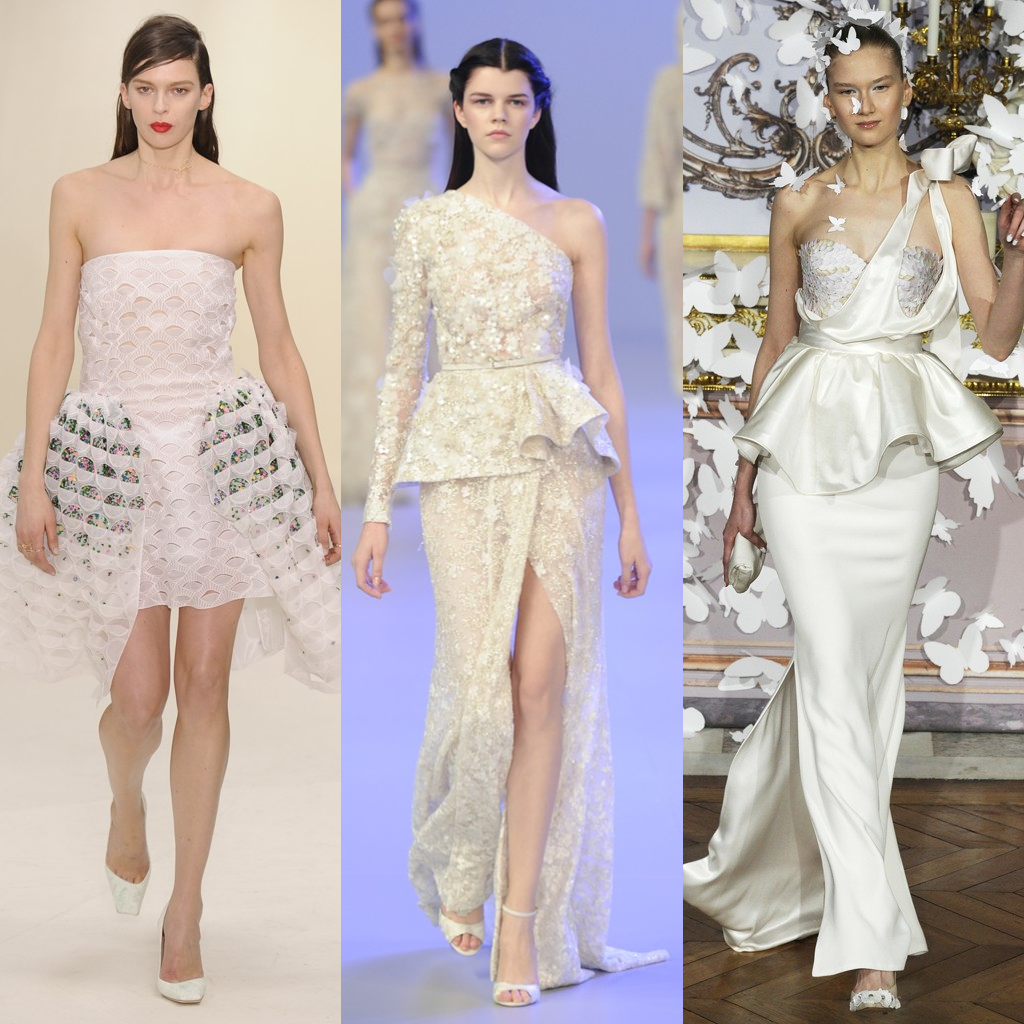 Peplum. Like, cut-outs you probably think "oh this is so two seasons ago" then BAM! Couture brings it back and fashion folks are loving it again.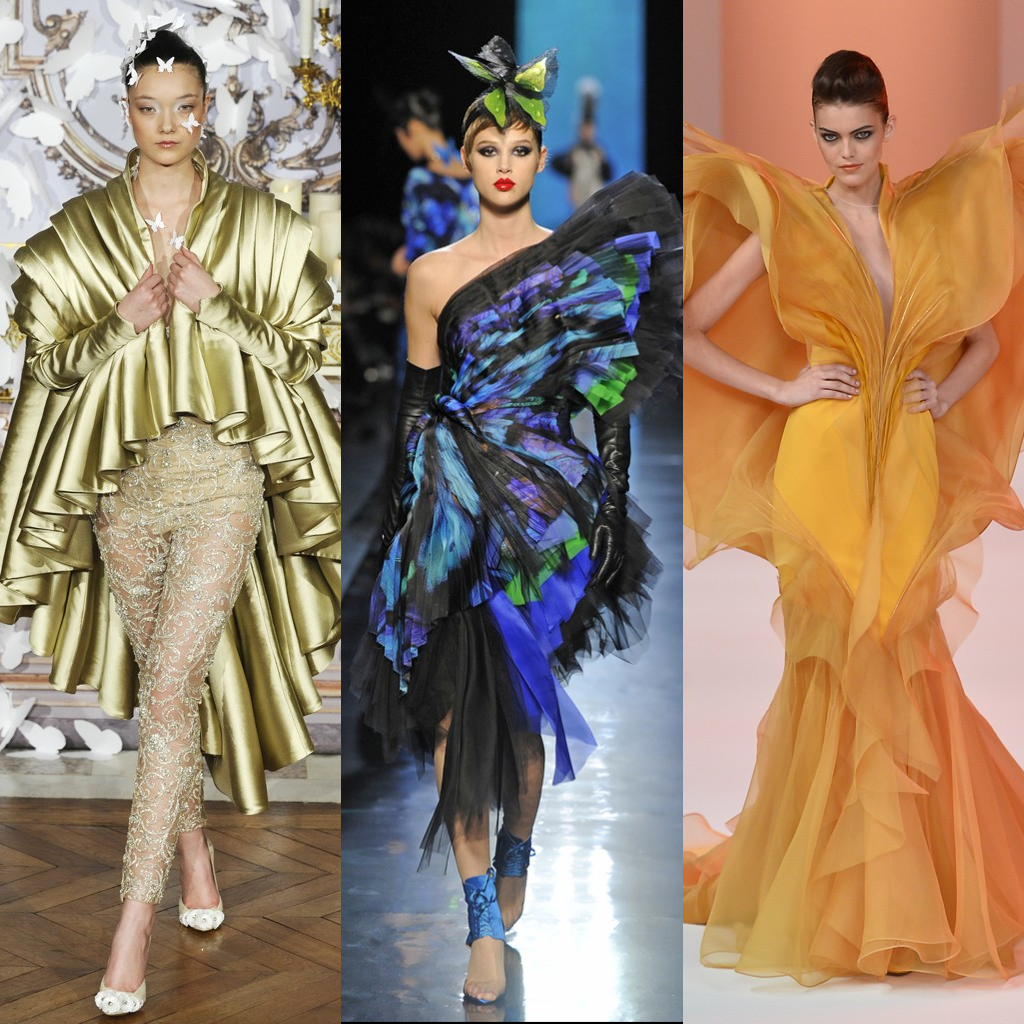 Excess fabric. Couture is meant for making us go WTF? And that's exactly where my heads at when I see these looks by Alexis Mabille, Jean Paul Gaultier and Stephane Rolland. So much silk taffeta, so little time.
—
Did you have any favorite couture shows from this past week? Any potential red carpet options? (besides Jennifer Lawrence in all of Dior and every other celeb in Elie Saab)
Images via WWD
You might want to check out...