I'll be the first to admit that when it comes to layering, I typically keep it very practical (layering for the weather and not necessarily for looks). Every once in a while I'll get a little creative — a bodysuit with a jumpsuit, two pairs of tights, and a sweater over a dress more than one time — but for the most part, I stick to a top and a jacket…if outerwear is necessary. Regardless of the reason for wearing more clothes, there's a new(ish) trend that's making me think twice about the idea of layering…FOR FUN.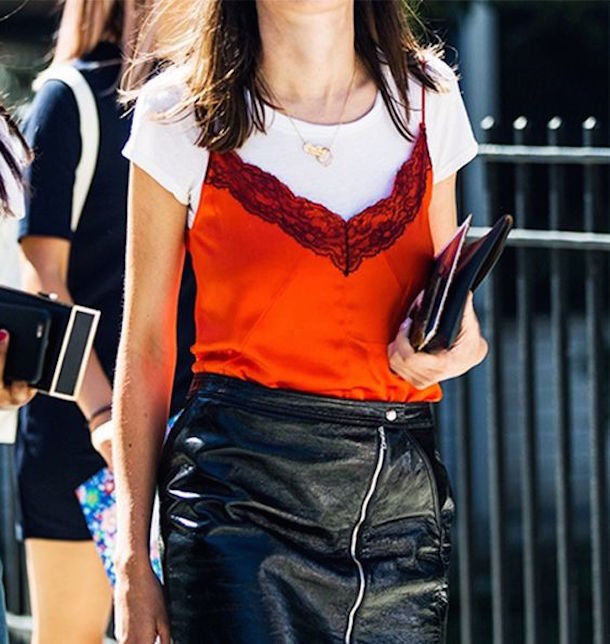 In this case, it can be layering for the hell of it, for the weather and / or the occasion. For the last couple of seasons, we've seen a lot of layering with things that could go very dressy when worn alone (a bustier top, a strapless dress and a slip dress to name a few) but when paired with something like a t-shirt, a turtleneck or a white button down, they get a whole new vibe. Slip dresses and spaghetti straps become even more 90s than you remember them…
And strapless tops / dresses become something I might actually wear (because otherwise, those are a hard no for me). Those pieces also then translate a bit more conservative if you wanted to wear them to the office or a more "buttoned up" event.
So how to go about such an outfit without looking like your mom made you put on a crisp white button down (you know the don't you dare for a second think you're leaving the house like that! comment?) Let's find out.
Let's start with the button down look (which is something we actually discussed for Fall Wardrobe Updates, but still perfectly good for spring!) Honestly, this is something I'd never think of on my own. A white shirt under a bustier or a strapless top / dress? Initially, sounds like a terrible idea. But when you see it in person, it's actually kind of cool.
And TTH shows us that it doesn't even need to be a WHITE button down.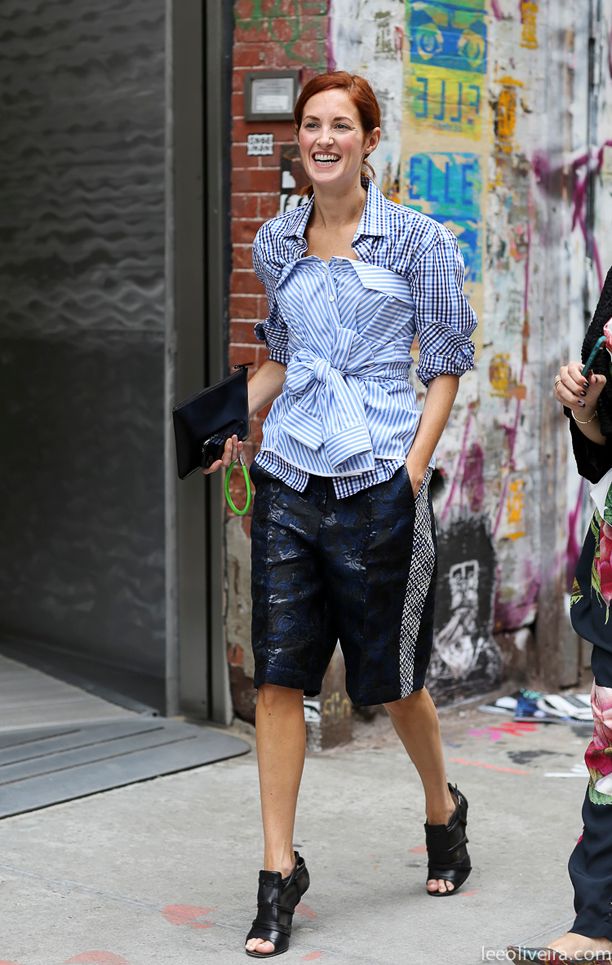 If you're feeling an extra layer (or the temperature just isn't what you'd like it to be…which is every other day at the very least in Chicago) then you can always throw on a jacket as well.
This look works best by pairing the button down with funkier tops / dresses, as well accessories. You don't want to look too conservative (re: the mom quote) so adding ripped denim, leather, a statement necklace or things of that nature will make the look fresh and ON POINT.
If you're thinking about giving this a try, here's a few things to get you started.
Now with the ever-growing popularity of the slip dress revival, we have to continue to find new ways to wear them so we don't all end up looking like we're going to bed in a nightie. Now suddenly, everyone seems to be layering their spaghetti straps and slip dresses with either a t-shirt or a turtleneck.
Of course a t-shirt is more practical for this time of year (depending on where you live) but in Chicago, you NEVER know what you're going to get…so it's good to have a turtleneck available at all times.
Like the button down, a turtleneck can also look a little too conservative, so wearing them with a structured top / dress, a cool bag or even a braid / different hair style is where you should start if you're thinking about going for this look.
You can also think outside the box in terms of the dress (it doesn't necessarily have to be your simple solid slip dress).
Or even a slip dress at all!
There's so much versatility when you layer this way because it works for just about every season and occasion. Don't want to cover up so much? Try a camisole, a t-shirt and a skirt. And for the days where it's 40 degrees in April and you're like CHICAGO, WHY?! then a long sleeve turtleneck with a cami (even though I despise the word cami) and denim is the way to go. So if you're feelin' it…
After writing this post, you'd think I know whether or not I'm on board with this (most likely the indecisive Gemini in me). I like to tell people when it comes to trends, only go for the ones that already fit your personal style and wear those you feel comfortable in. I'm not sure how "me" the button down + strapless top / dress or the t-shirt + slip dress look is so I guess you'll just have to stay tuned (or follow me on Insta) to find out!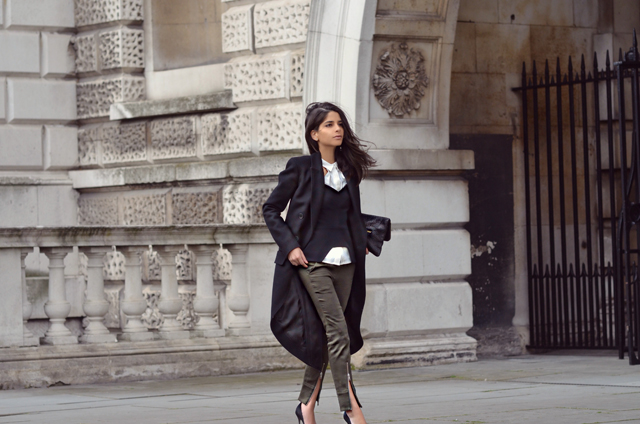 What do you think these spring layering tips? Any looks you're going to try this spring? Or perhaps you've rocked one of these outfits already? If so, any advice of your own for making this trend work?
Images via WhoWhatWear, StyleCaster & Pinterest
You might want to check out...