Today, I am extra excited for the latest installment of CCF Loves because this particular individual is not only the youngest feature so far (and not just due to his last name…he really is only 25) but I've known him longer than anyone I've ever written about. If you love interior design, are looking for home inspiration or just want to learn about a Chicagoan doing cool stuff, then you don't want to miss this.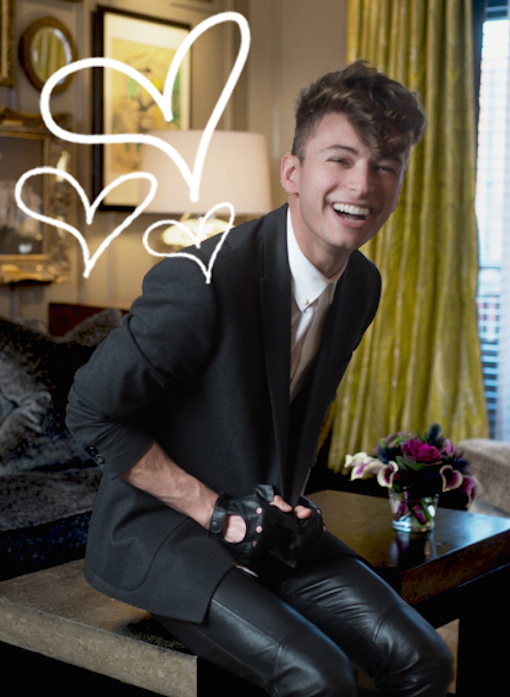 Stephen and I met in college my senior year, his junior year, in a dance class. Yes, a dance class. At this point, I just needed credits to graduate so I thought why the hell not? And I'm sure glad I did…because Stephen and I came up with some badass routines together (fortunately and unfortunately there is no documented video to share with you…oh the good old pre-Instagram days). I always appreciated his ambition and motivation, yet he was still grounded and down right hilarious. Little did I know we'd still be friends, living in Chicago, running in the same circle less than five years later. Now, Stephen works for an interior design firm but also runs his own company, Stephen Young Design. He is responsible for some fantastic finishing touches in my home — including a coffee table he designed himself, an understated area rug that I sometimes find myself hanging out on because it's that comfortable and reupholstered sofa cushions that even my dog appreciates (Laz never slept on the couch before Stephen came in…now it's his favorite spot in the house). But this isn't about my dogs (although I'm sure they'll eventually get their own CCF Loves feature), this is about Stephen Young. A name you should know, because you will be seeing a lot of him (starting with this home tour he just did for NBC).
So let's have a little chat with Stephen, shall we?
What do you love most about Chicago?
The sense of community and pride. For being such a large city, we still operate much like a small town. We have a lot of local businesses, community events, and overall morale that other cities just don't seem to match. Chicago is like it's own unique eco-system of mid-west mentality mixed with history and a quiet sophistication.
What are your go-to things to do/see in the city?
I love antiquing, and not just the glamorous kind you might find up in Andersonville or down in River North. I love to dig through the junk stores and thrift shops to find to most amazing and unexpected furnishings, objects, and art. Don't get me wrong, I frequent the great antique places like Scout, The Find, and Broadway Antique Market, but I also love rummaging through places like the Brown Elephant, Brownstone Antiques, and Green Element. Chicago is a great city to find special pieces because we get a collection of things from all across the mid-west!
Most memorable moment in your career so far?
Being featured in Interiors Chicago Magazine (CS Interiors). After 2 years of designing and managing a condo renovation, I was featured by the publication as "Young Blood" in the industry. It was an honor to be recognized at only 24 years old, and by people whom I wouldn't even consider as my peers, but rather, as my mentors. Without a doubt it was a milestone that I'll never forget.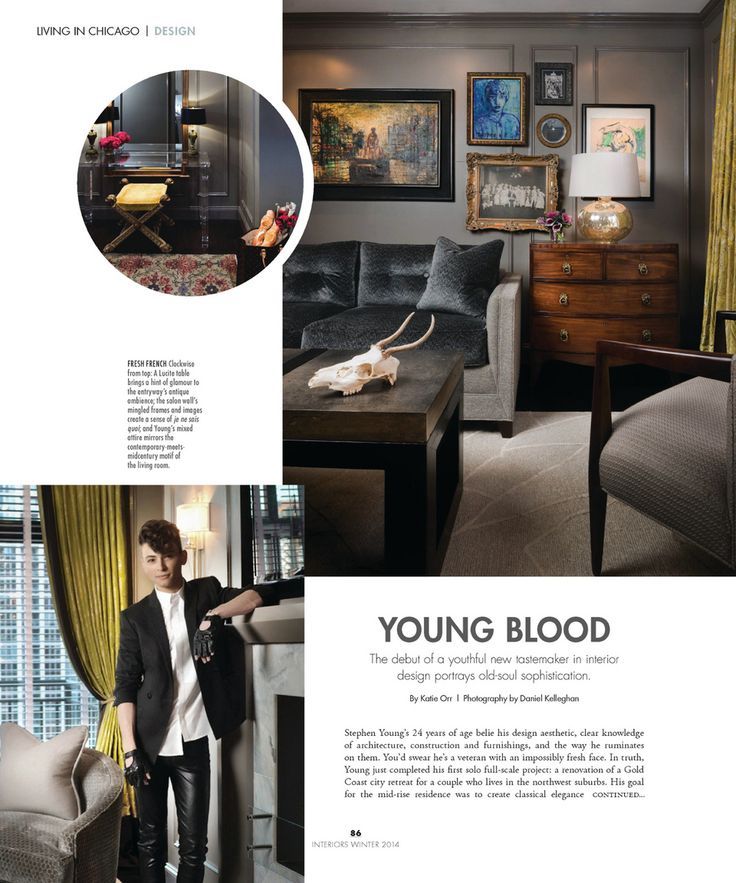 Any words of advice for someone trying to get into interior design?
Interior design is nothing like the magazines or HGTV tells you it's going to be. It's also not picking-out paint colors and fabrics. Be prepared to live this business and give 100% to your client's and your designs. Having studied architecture in undergrad, I had a much different understanding of what interiors designers do than I have come to learn. It's a very personal business, and it takes more time to manage and facilitate the execution of a design plan, than it does to actually design the space all together! Best advise – Have a passion for creating art with space, and success will follow.
What's your favorite trend in interiors right now and which one do you want to go away?
My favorite trend would have to be gold tones. They say that interiors follow fashion trend behind by about 5 years, so this isn't surprising considering the Michael Kors "gold watch movement" we saw some time ago. Although with mid-century modern design becoming a staple in trendy interiors, it's also appropriate that gold/brass tones make a comeback. I really never understood the "live edge" obsession or anything "shabby chic" – why would anyone want to be shabby when you can be chic?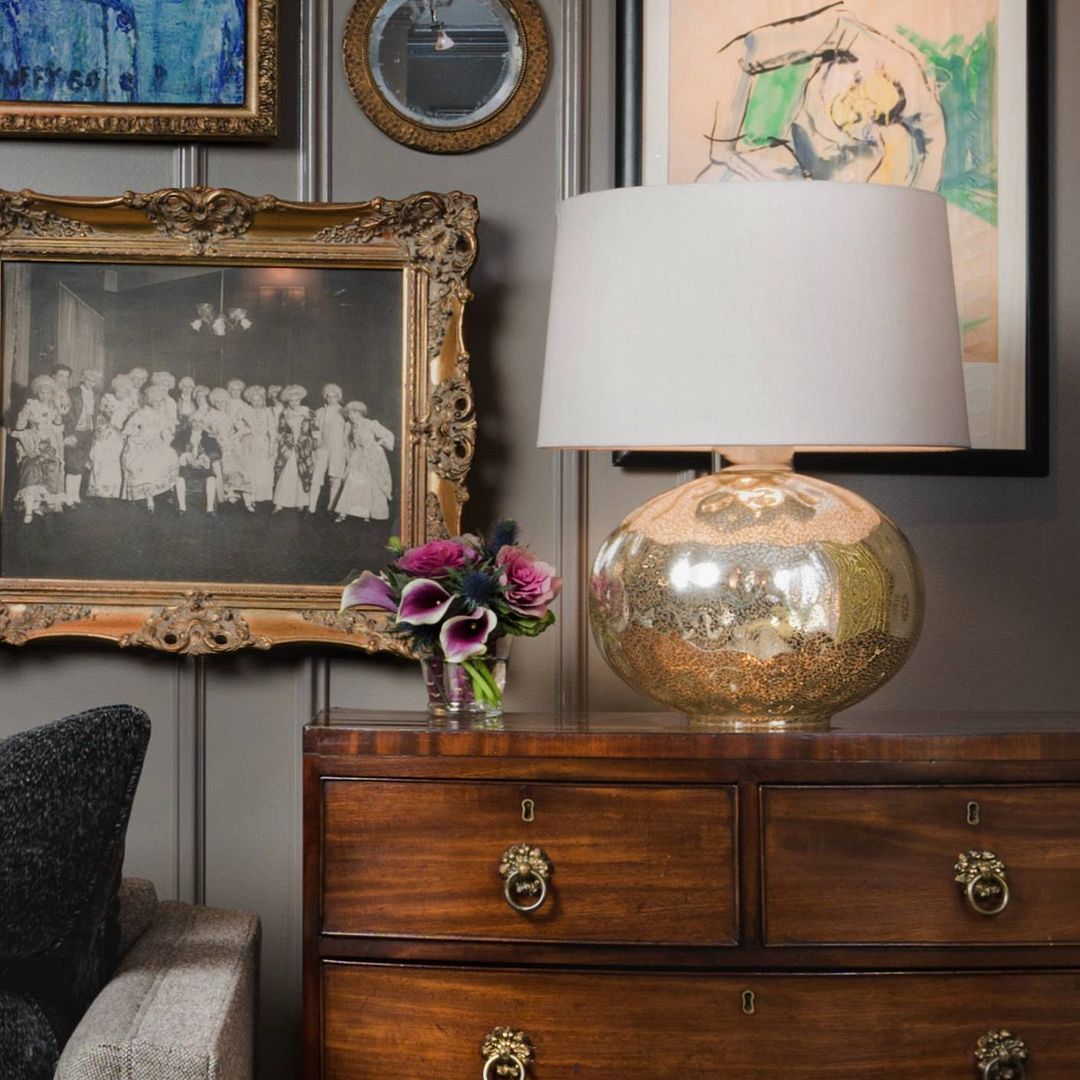 What are a few tips for anyone who's looking to redesign their space?
First, I would recommend thinking about your lighting scheme. Think about having different levels of light around the space, and put as many fixtures on dimmer switches as possible. Layers of light create atmosphere and ambiance in any room, no matter what the budget. Second, I would suggest thinking in pairs. Symmetry somewhere in a room helps create balance and formality which makes the rest of the pieces feel intentional – even if everything doesn't "match"! Lastly, I suggest taking your time. Rome wasn't built in a day, and good design doesn't happen over night. Just like the best outfits in your wardrobe are built from your favorite collected pieces, your home should feel just as tailored to your lifestyle. There's no use in rushing just to fill space (unless you rent, that's a different story), finding the amazing one-of-a-kind pieces that reflect you is what good design and making a home is all about!
—
Coming from someone who really struggles when it comes to interiors (which ironic because that's basically the business my parents have been my entire life), that's advice I really appreciate and anyone can relate to. If you want to get in touch with Stephen with regards to a project, be sure to check out his website and for interior design inspiration, you should probably follow him on Instagram. Just sayin'.
You might want to check out...