Streetwear…street where? Confused? Me too. Let's continue.
It seems as of late that streetwear has become somewhat of a trend. Varsity jackets, sneakers, flat brim hats…you know you've seen that all over the street style blogs. What I find most interesting is that this is a trend I've seen in the streets but not so much on the runways. So where exactly did it come from? ChiCityFashion investigates.
Let's start with the definition of streetwear. According to a reliable source (Wikipedia)…
Streetwear is a distinctive style of street fashion. Rooted in West Coast surf and skate culture, it has grown to encompass elements of hip hop fashion, Japanese street fashion, and modern Haute couture fashion.
I'm definitely one to be on board with this trend. I mean…why not? It's comfortable and you look like a badass. What more could you ask for? I'm not saying you should completely change your style but if you like certain elements of streetwear, you can still incorporate them into some of your looks. I've come across photos of girls in a dress, bomber jacket and a flat brim hat or a feminine skirt and sneakers…there's a lot you can do with it, and I think it's even more fun to play with several styles at once. Plus, it's a unisex trend! So everyone wins, really.
Okay but back to the question…where did this come from?
With celebrities whose style is just as famous as their talent, it's easy to find inspiration. Think: Rihanna (has her own fashion line for River Island), A$AP Rocky (fancied by The Coveteur and name drops 27 designers in just over 4 minutes) and Rita Ora (who apparently is responsible for Rob Kardashian's weight gain but makes up for it in exceptional style). They all love fashion, wear what they want and really don't care about what people have to say. And I respect that.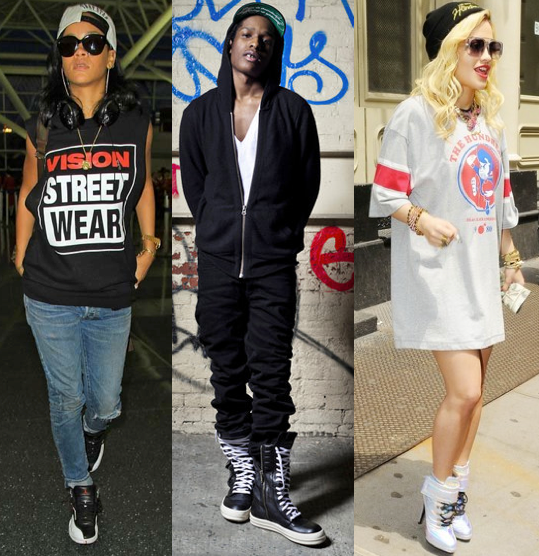 If you're feeling extra badass today or just want to change up your look, here's some of my favorite streetwear-inspired items to get you started.

Images via Vibe Vixen, Fashion Bomb Daily, Style Snooper Dan, Mode Pure & Le-21Eme