You know the rule — no sweatpants in public (unless you're in college…then I guess you have four years to be the exception). But fashion doesn't seem to follow the rules anymore. You can wear white after labor day, you can most definitely wear navy and black together and now you can wear sweatpants in public.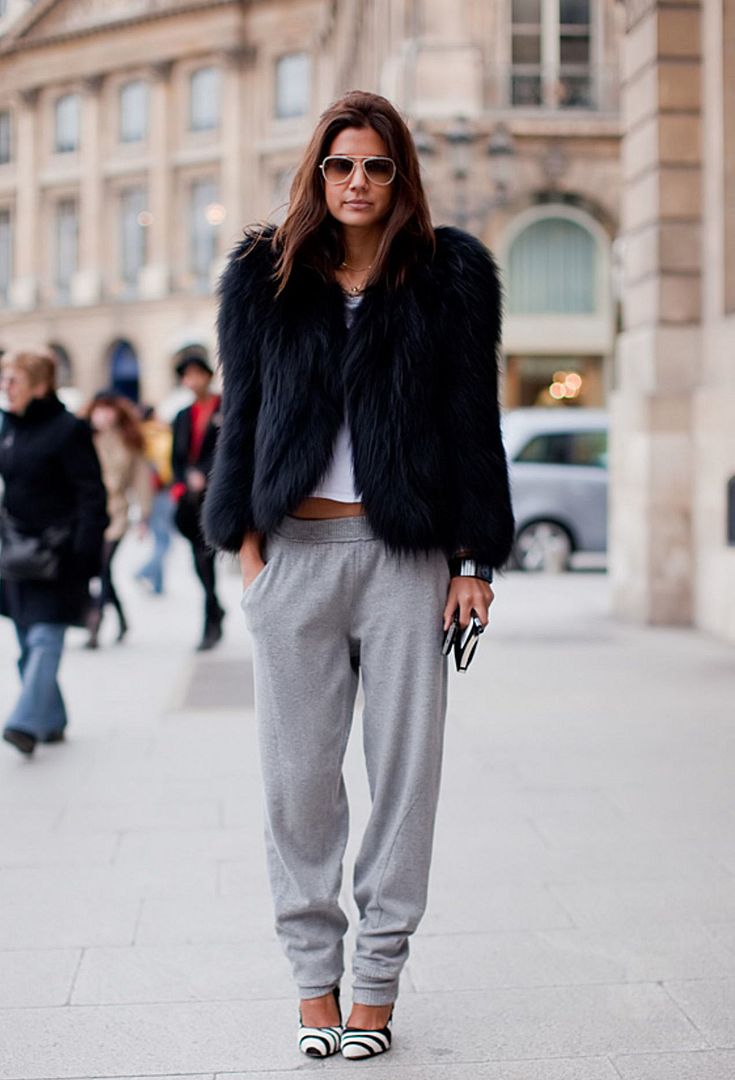 Now, let me clarify here. Would I recommend wearing your high school sports team sweatpants when you're 25? I cannot advise yes. What about these floral printed joggers? Absolutely. There is a fine line on what can/should be worn out of the house. No one else but Vogue Australia Fashion Director Christine Centenera can pull off sweatpants like these on the streets, but there are some stylish sweatpants in an array of materials (including my favorites — silk and leather) that are much easier to incorporate into your wardrobe. You can wear them with a fitted t-shirt, a leather jacket and slip on sneakers during the day (running errands, weekend brunching, etc.) or dress them up with heels at night (which I did with these Dion Lee track pants last week). Yes, you can wear sweatpants OUT. But only if they're the right kind…
Last year, I talked about how fashion is moving in a much more comfortable direction (sneakers, loafers, and boyfriend jeans to name a few) and this is just another example of that. There's those Anna Dello Russos and Michelle Harpers of the world who wear fashion as art (and most likely do not own one single pair of sweatpants) and others can incorporate that mentality but apply it to a more practical look. And then most of us just want to be comfortable. Don't you think it would be nice to eat a meal without having to unbutton your pants? Maybe you should get yourself some drawstring joggers and get your feast on.
Would you wear sweatpants/joggers out of the house? How would you/do you wear them?
—
Image via Carolines Mode
You might want to check out...