I've done a lot of posts about my favorite designers and trends but trends come and go…it's important for us to keep those classic pieces that will be good all year-round, no matter what the occasion. I chose pieces for a variety of budgets and styles so I hope you enjoy part one of the many more to come wardrobe essentials posts.
Black Skirt: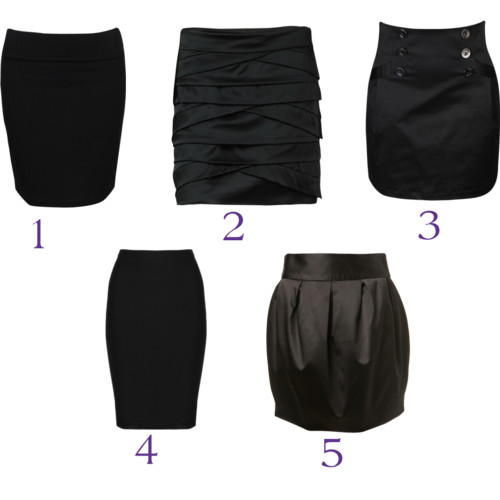 1: Dual Layered Knit Skirt, $7, 2: Diane von Furstenberg Skirt, $240, 3: Buttoned Front Satin Skirt, $16, 4: Wolford Taisha Seamless Jersey Skirt, $185, 5: Black Satin Lantern Skirt, $48
To ensure the timelessness of your black skirt, you need to be sure there isn't too much going on. I've chosen some skirts that are very simple and ones with a little more going on to satisfy all tastes and styles. These skirts can be worn anytime of year. Wear with tights when it's cold, maybe some printed tights for a night out. These skirts can be worn to work or out with friends and that all depends on the shirt and accessories you chose to wear it with. A simple top and a blazer for work and a sparkly tank and fun shoes for girls night out….the possibilities are endless. This simple piece of clothing can take you a long way and because it's a separate, you can wear it many times and no one will notice your repeats!
———————————————————-
Blazers: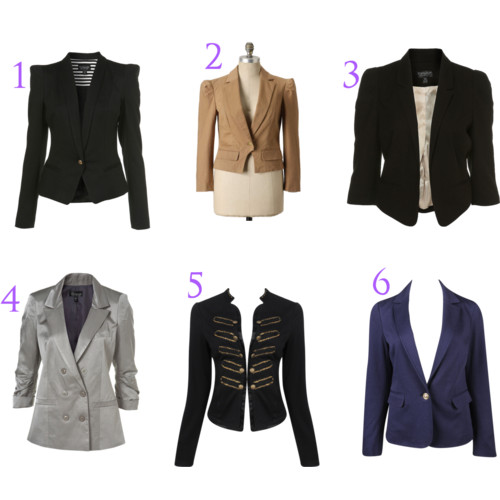 1: Short Jersey Shoulder Blazer, $135, 2: Boundless Blazer, $120, 3: Tennis Ball Shoulder Jacket, $110, 4: Ruched Sleeve Blazer, $125, 5: Metallic Fleck Military Blazer, $35, 6: Chancellor Career Jacket, $28
I used to refuse to wear blazers, but with the different colors, fabrics, prints and styles that have come out more recently, they've become a staple in my wardrobe. A more simple, probably black or another neutral color, blazer is perfect for the work place but pair with a fun top or even a metallic dress for a night out….you got yourself a whole new outfit. They can even be more casual with skinny jeans and a tank paired with flat boots or flats for a day look. There is so much you can do with a blazer…it's all up to you.
**Note: #5 is similar to the Balmain military jacket seen for their Fall 2009 collection and also seen on Beyonce
———————————————————-
Skinny Jeans: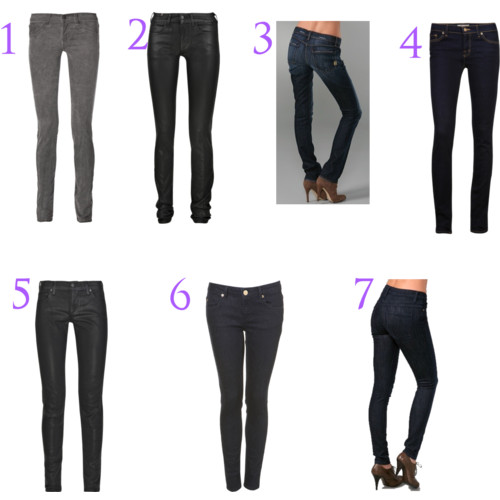 1: J Brand Pebble-Wash Skinny Jeans, $190, 2: Notify Waxed Skinny Jeans, $275, 3: Rich & Skinny Sleek Skinny Jeans, $190, 4: J Brand Jeans, $260, 5: Citizens of Humanity Avedon Waxed Skinny Jeans, $170, 6: Indigo Spray On Jamie Jeans, $80, 7: Anlo Ava HighWaist Skinny Jeans, $185
I love skinny jeans because I think they look best with flats, ankle booties and boots (which is what I wear most often) and they can be worn anytime of year and will never go out of style. They come in a variety of colors, washes and styles. For me, an average size woman, I need my skinny jeans that to be a little stretchy. James Jeans are my absolute favorite. It's very hard for me to find skinny jeans that actually fit and look good on me and James Jeans are my[current] favorite. You can wear skinny jeans with just about anything but make sure that the top isn't too short or too tight because I think it's important to balance proportions when putting together an outfit. If I'm going tight on the bottom, I will do a loose top..and vice versa…loose bottoms with a tighter top.
**Note: If you want to "hold it all in" #7 are the jeans for you…high waisted skinny jeans are hard to find and these are great!
———————————————————-
So what do you think? What are your wardrobe essentials? Do you have any other suggestions for my future wardrobe essentials posts? Do you like my picks? Any other suggestions for blazers, skinny jeans or black skirts? I want to hear from you!
You might want to check out...