I thought about doing one of those "what's in my bag?" posts then I realized it wouldn't be that exciting. Why? (besides the fact that keys and lip balm probably don't have you at the edge of your seat).
With bags getting smaller and smaller (remember, size matters) I've learned to carry only the absolute necessities. So I thought I'd combine two posts in one (because there's only so much I can talk about pressed powder and hand lotion) for the ultimate bag edit.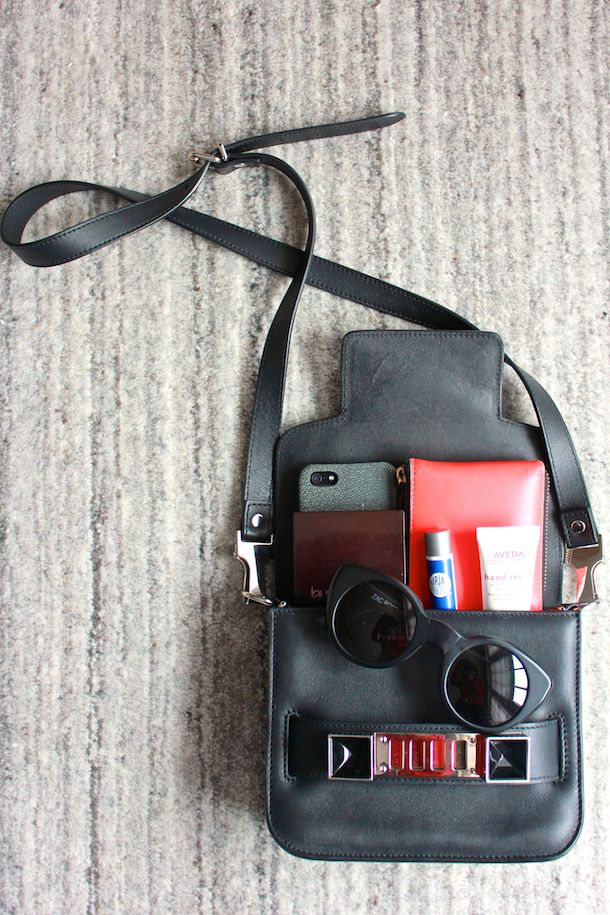 If you're one of those people who thinks they can't fit everything into a smaller bag, just know that I used to be you. I don't even remember what I would have in there but I sure as hell don't need it now (except the occasional change of shoes…I do need a spare pair of flats every once in a while). Don't get me wrong, I'm not saying ditch all bags that fit more than just a wallet. It's good to have a variety. But right now, I'm not carrying a lot of stuff and I'm REALLY into my PS11 tiny.
This is all I carry…what more do I need?
The first step for a bag edit is to downsize your wallet. I used to carry the continental style but maybe a "wallet edit" post is something I should do in the near future (something George Costanza could have used about 22 years ago). Then think about what you REALLY need. Cell phone is number one priority for me (otherwise, how could I Instagram anything?) but with my addiction to lip balm (I never go anywhere without it and if I do, you don't want to be around me) that's tied for priority status. If it's sunny (or if I have no makeup on), a good pair of sunglasses are a must. Plus a few other odds and ends like pressed powder (especially when it gets warmer out…no shine, no problem) and hand lotion (for those extra cold days). And these are just the times where my bag is actually full — I can usually get away with just a wallet, phone, and lip balm (and I usually keep keys in my coat pocket for some reason). With so many awesome small bags out there, the bag edit is TOTALLY worth it. Plus, it feels nice not to be so weighed down (it's like a diet but for your bag…much easier than a real one).
Could you use a bag edit? Any small bags you have your eye on this season? Maybe this will help…
You might want to check out...