Probably one of the ballsiest moves you can make in fashion is wearing an all white outfit. Not because it looks crazy, or people think it's unflattering (which isn't completely true) but because you need to be on alert the entire day. Things I suggest not doing in all white: sitting anywhere, leaning against anything, and drinking red wine (definitely the toughest for me). But if you're up for the challenge, it can really pay off. I mean…how awesome do all these ladies look?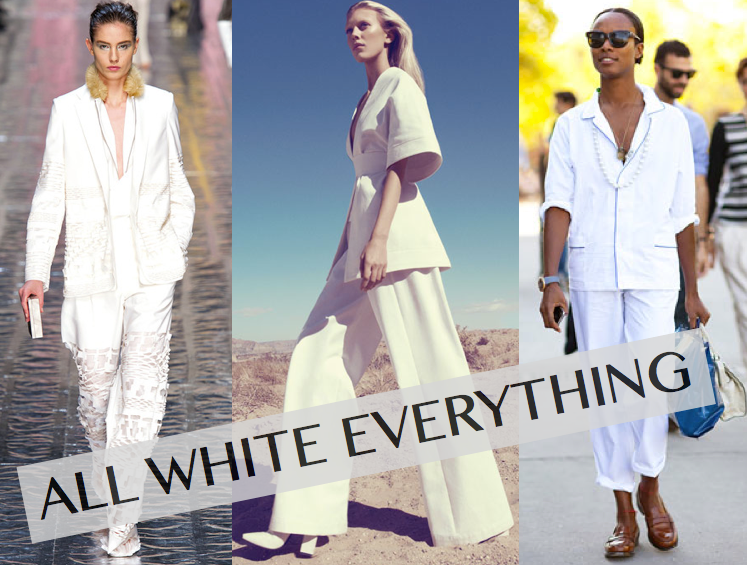 Whether it's on the runway, in an editorial or on the streets…this look is truly effortless because you don't have to think about what will go with it. White dress with white shoes, white blouse with white wide leg pants…there are so many options and as long as you're not wearing a too-tight white bandage dress, white CAN BE FLATTERING. So don't fear it. Embrace it. And if you're like me and have a difficult time wearing zero color, try a bright clutch or a bold lip. A little color never hurt anyone (except in the case of Ke$ha…that hurts).
And if you really want to be on trend for spring, just add a black piece to your white outfit and you're already sporting the season's biggest trend — black and white. Pretty easy, huh?
I have several white items on my wish list so I'm sure you can find something to complete your all-white look. And how inappropriately awesome would it be to get married in the Cushnie dress? I don't hate the idea.

Images via Style.com & Harper's Bazaar
You might want to check out...