When it comes to awards shows, I'm more about the Oscars, Golden Globes and the Met Gala because booty shorts and mediocre music don't really get me all that excited. I completely forgot the VMAs were on last night until I stumbled on Twitter between episode 4 and 5 of Orange is the New Black and realized I was missing one terrible Miley Cyrus performance. Then I saw this, and decided a red carpet post indeed had to happen.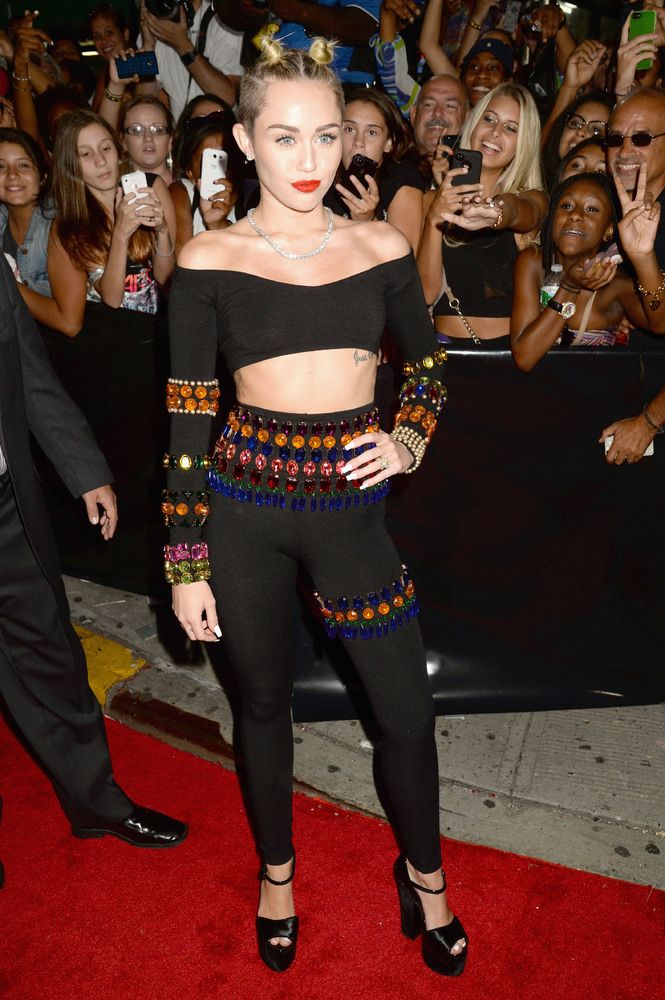 Miley Cyrus in Dolce & Gabbana
Miley, we understand you're trying to have a 90s Gwen Stefani moment here. But it's 2013 and you're not Gwen Stefani. But in all seriousness, I wouldn't mind the outfit if it were for a performance but that hair…it just looks flat out painful. Love the makeup though.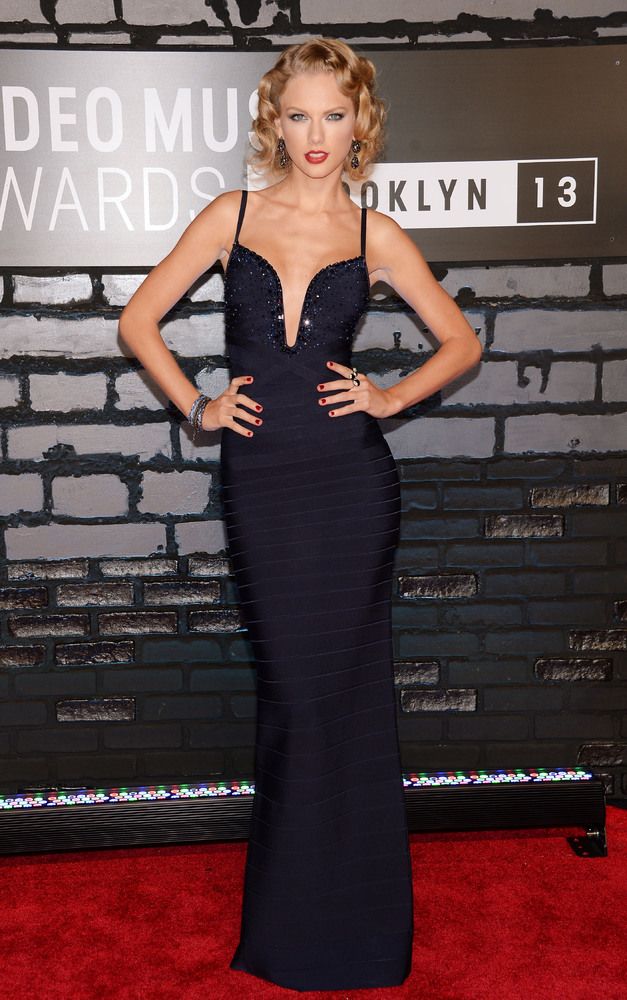 Taylor Swift in Herve Leger by Max Azria
I know everyone hates Taylor Swift because she dates every famous guy, gets her heart broken, writes songs about it and only wears neutral colors with red lipstick but I have to say, she looks gorgeous here. Very Marilyn and super glamorous, just totally wrong for this sort of event. As much as I hate to say this, if you don't look somewhat trashy at the VMAs you're doing it all wrong.
Selena Gomez in Atelier Versace
This is the perfect VMA dress for someone who isn't willing to go as far as Miley Cyrus but still wants to look appropriate for this event. There is a lot going on in this dress but it shows just the right about of skin and fits her perfectly. I'm not sure if she needed those earrings with such a busy neckline but overall she looks damn good.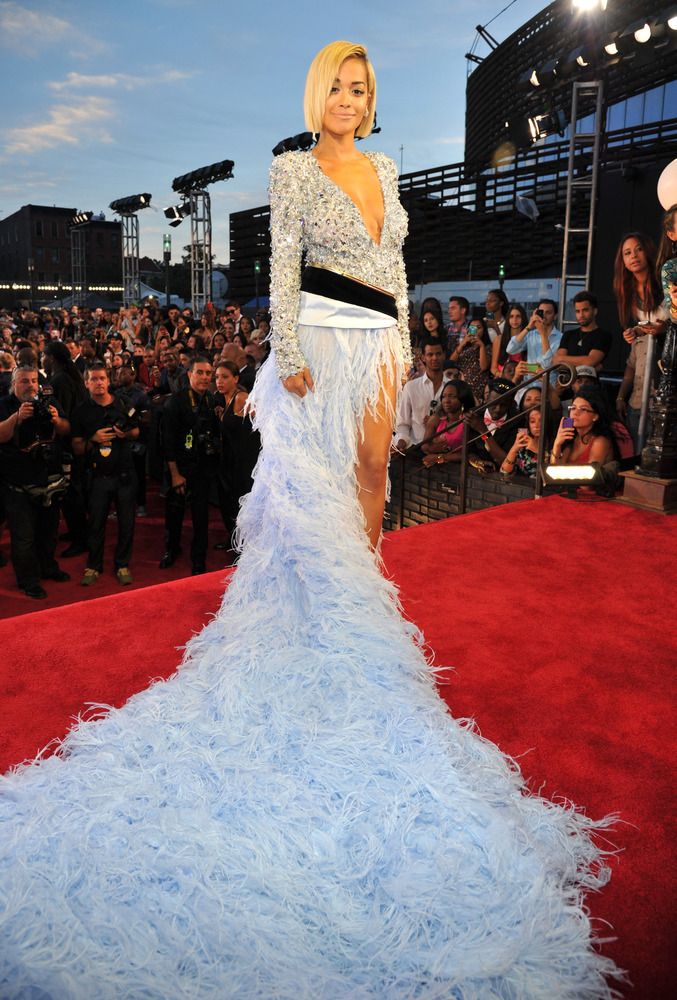 Rita Ora in Alexandre Vauthier Couture
That's just way too many feathers for my liking. I do love the top half of this (although the fit is slightly off) but between the embellishment, the odd black stripe going on at the hips and the miles of blue feathers, it's just too much. Even for the VMAs.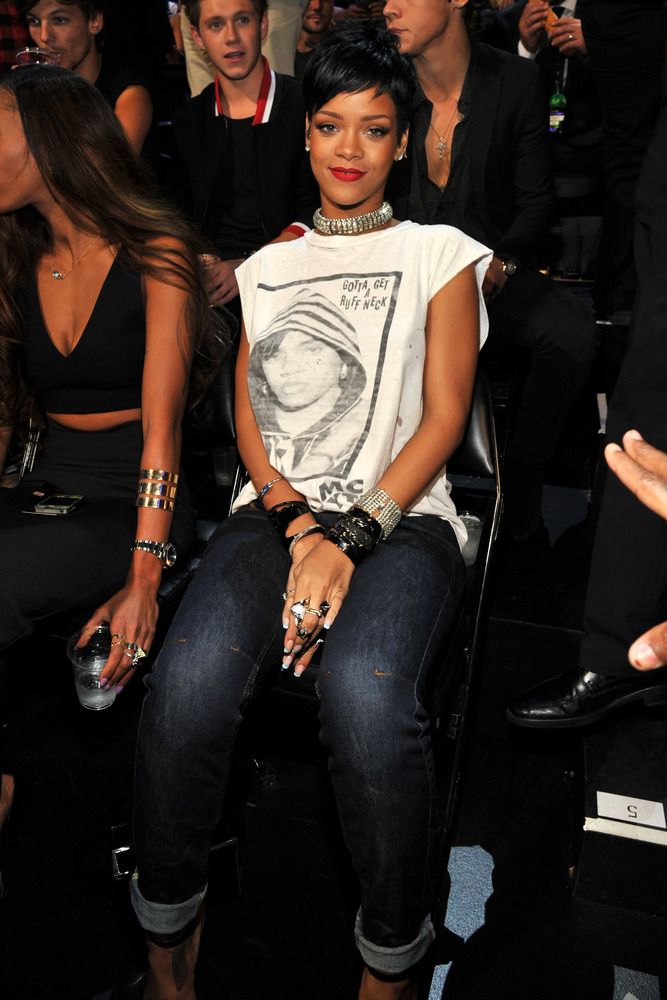 Rihanna in Rihanna for River Island
She's gotten more dressed up to go get groceries. It's a great look, it's very her but you have to step it up a bit for any red carpet and this is just so ordinary.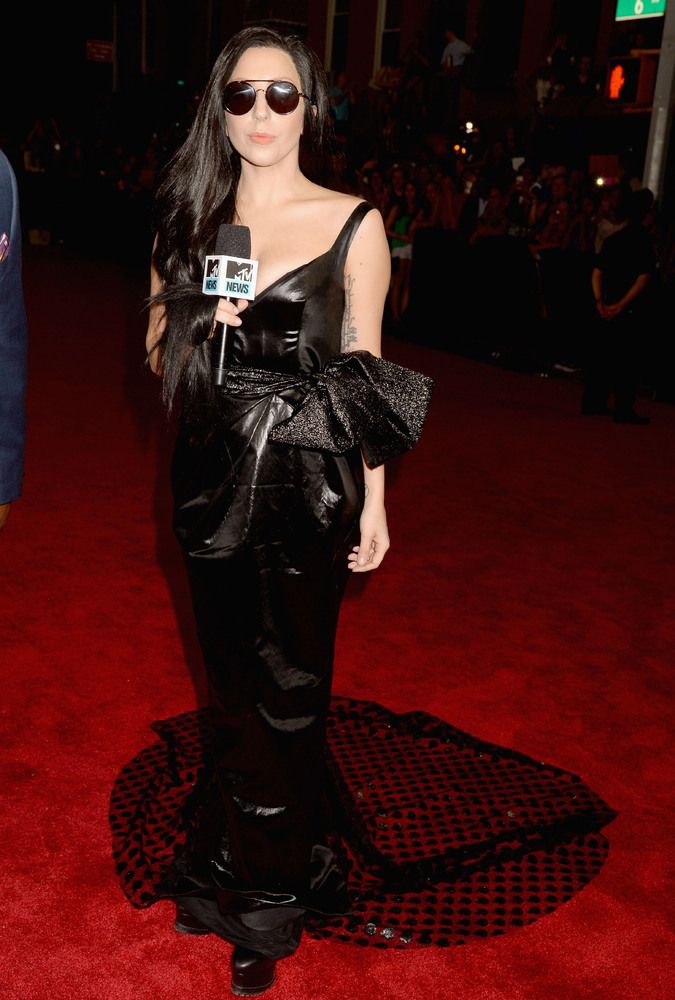 Lady Gaga in Prabal Gurung
I love this more toned-down Gaga we've been seeing lately. It's very refreshing. I have no idea where she's going with this (will we get to call her Stefani soon?) but I'm curious to see if she will start dressing not in costume more often. She somehow takes this cool (very simple to her standards) dress and makes it look super avant-garde. It's the Gaga effect, I guess.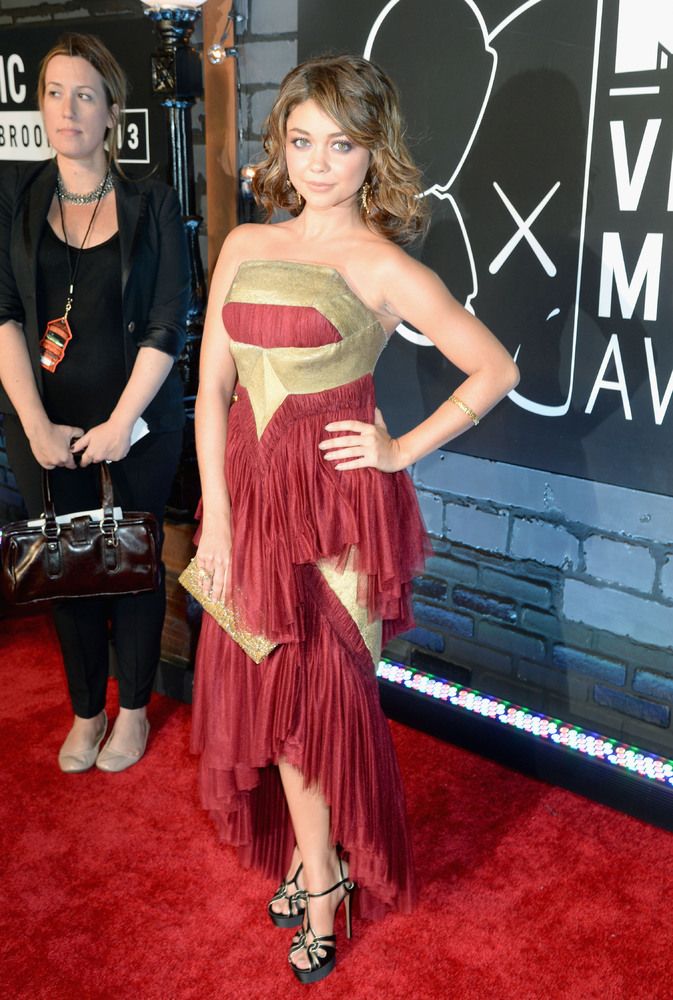 Sarah Hyland in Marchesa
How do you look like you're wearing an outdated prom dress when you're not even old enough to know what an outdated prom dress looks like? Between the out of place black shoes, the cheap looking dress and those not-so-great-highlights, it's just a mess.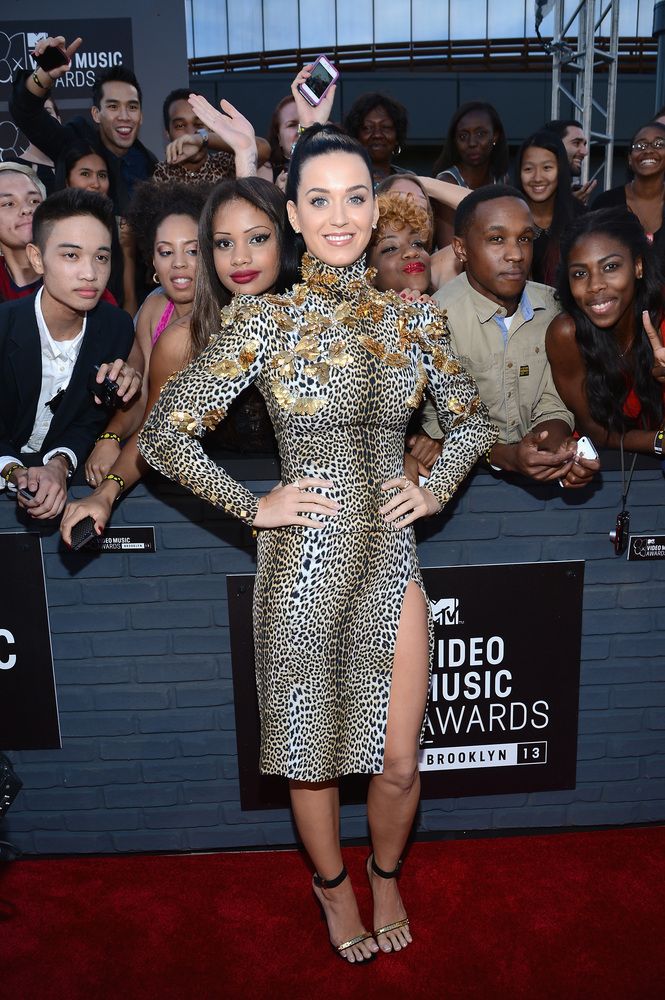 Katy Perry in Emanuel Ungaro
You know when I said you have to look a little trashy to be VMA red carpet ready? Well this is it. I'm not a fan of leopard, especially in this quantity, so I hate the dress. But it works for this event. The one thing I cannot forgive is that French pedicure. A French manicure is bad enough but when you take it to the toes I just can't even look. Side note, does Katy Perry know that she's posing with like 10 other people in the background? These fan photobombs are pretty fantastic.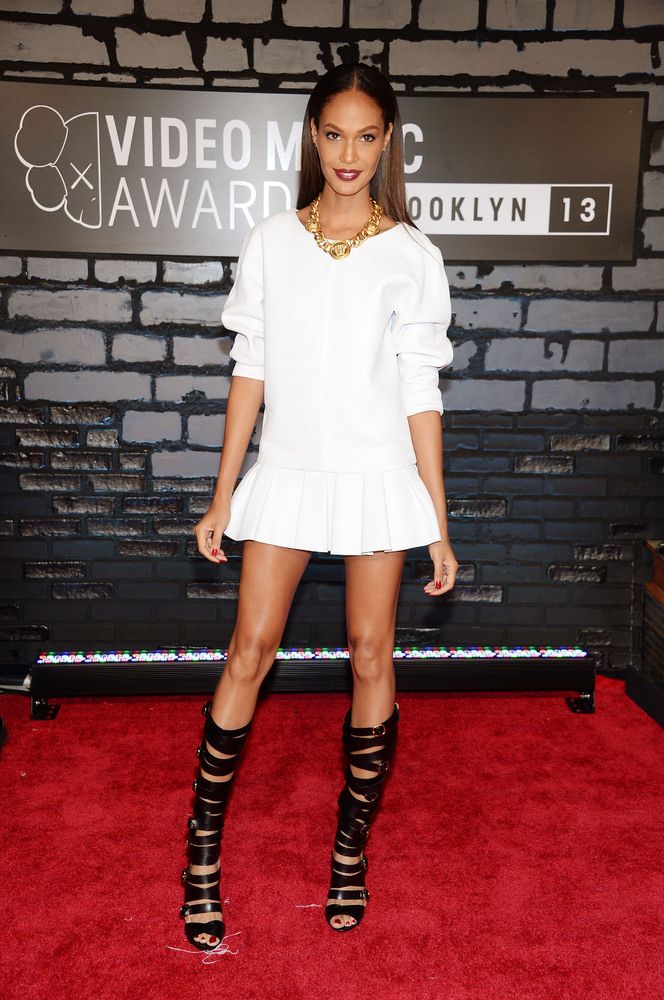 Joan Smalls in Viktor & Rolf
FINALLY, someone who gets it. You can't get too fancy and glamorous for the VMAs but you still want to look nice and you can definitely have fun with your look. Joan did this absolutely perfectly. I love the little casual dress with a chunky gold necklace then BAM — killer heels.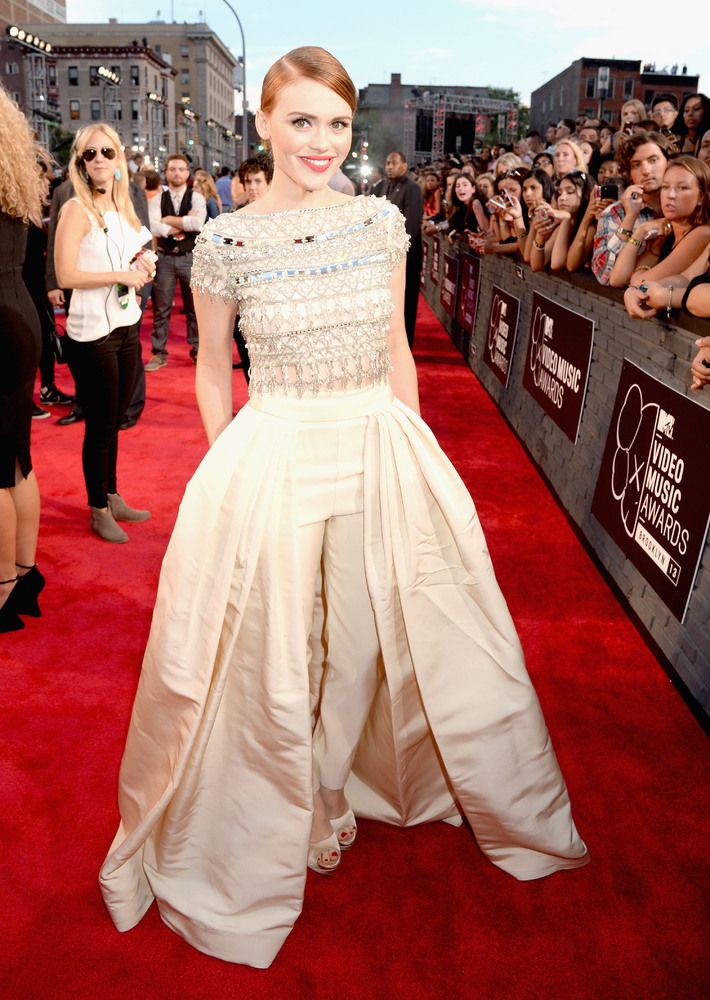 Holland Roden in Naeem Khan
I love the idea of this but it just executed poorly. As much as this look seems "fun" enough for the VMAs, it's almost a little too classy. If this was steamed properly and on the right girl, this would be insanely awesome at the Golden Globes but unfortunately it's wrinkled, I don't know who this girl is and it's the VMAs. Also I hate the DTM (dyed-to-match) shoes.
Erin Wasson in Alexandre Vauthier Couture
I freakin' LOVE Erin Wasson and I typically love anything she wears just because she's Erin Wasson. But this just looks like a slutty coverup a housewife would wear in St. Barths. Totally on board with the headband though.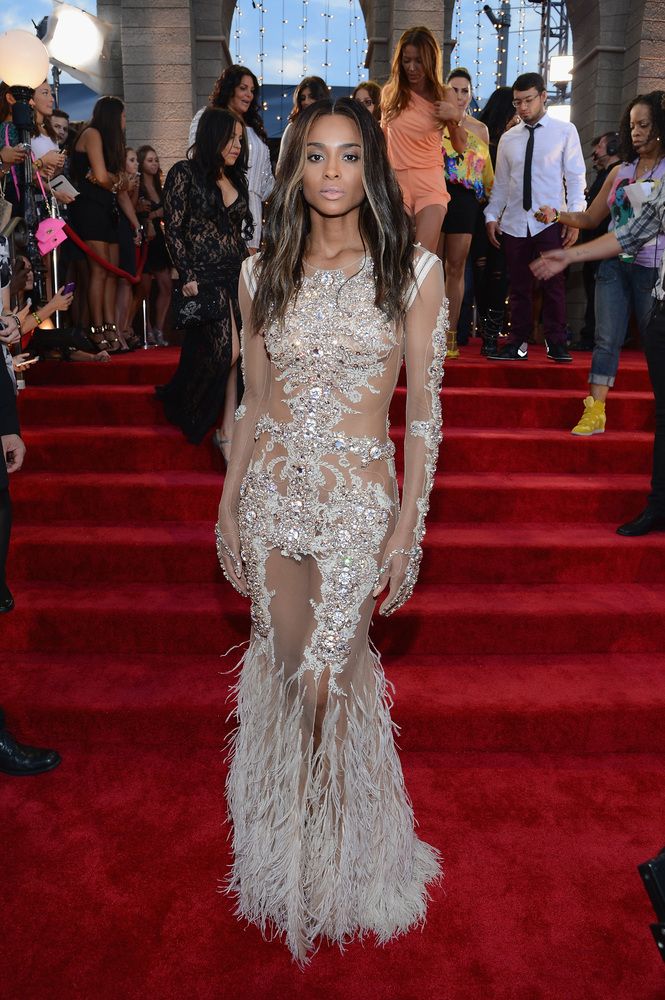 Ciara in Givenchy
Bringing a little Tisci to the VMAs…thank you Ciara.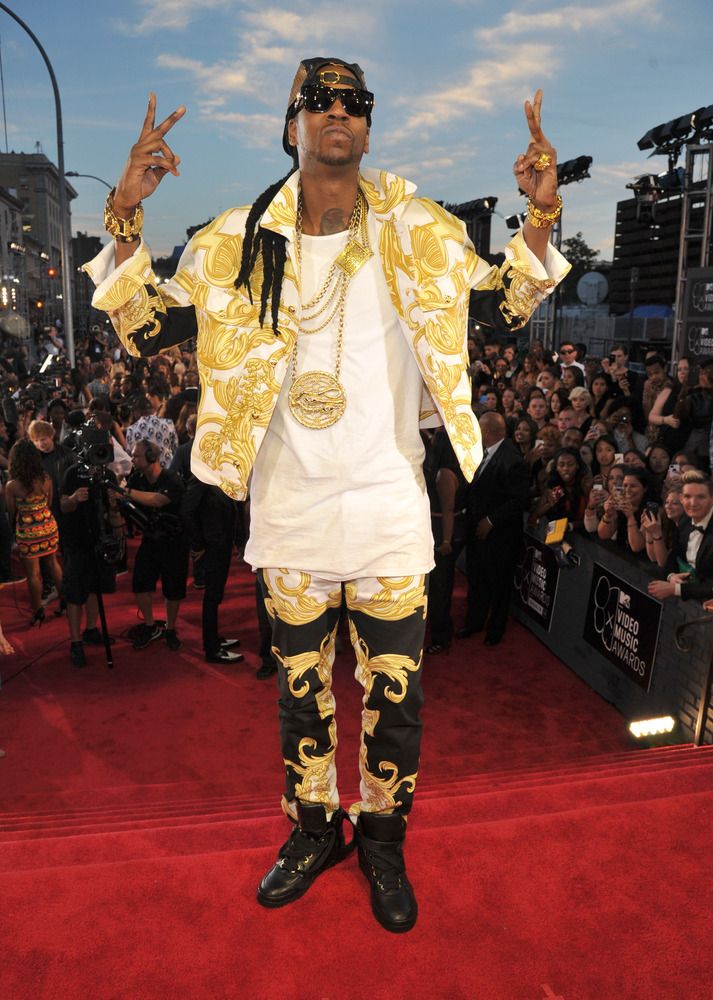 2 Chainz in Versace
Well he is definitely wearing more than two chains. I was hoping this would be Migos or Drake (would make more sense with that song that just basically just says "Versace" over and over again) but I'll take 2 Chainz. It's crazy but it works. I also dig those sneakers.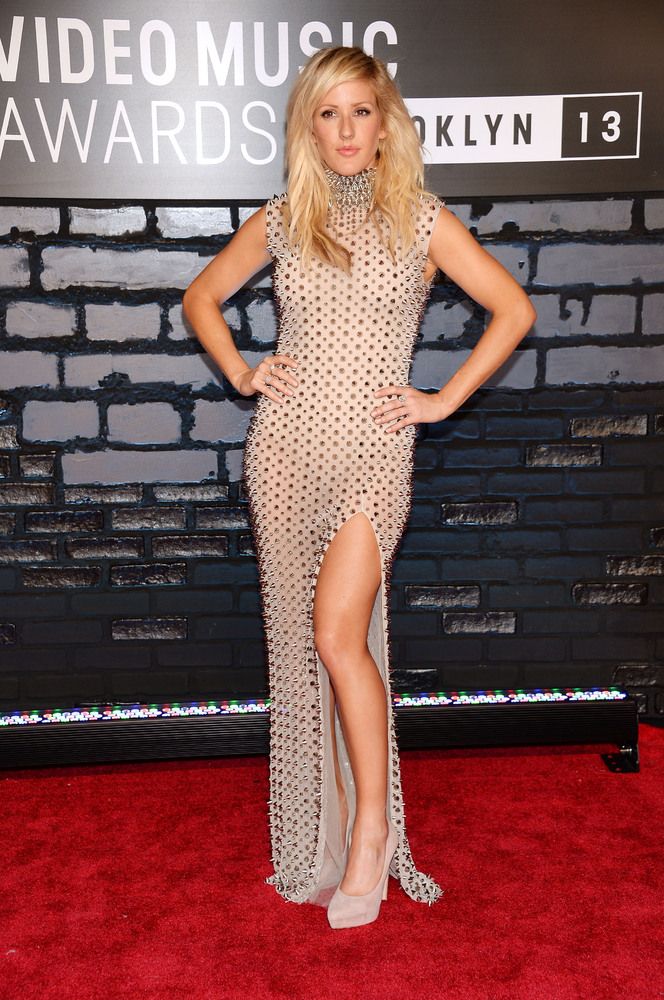 Ellie Goulding in Amato Couture by Furne One
Well no one was going to mess with Ellie Goulding at the VMAs last night. This is the kind of dress you wear when you don't want anyone to come near you (or you're just being protective). With a single-sole pump and a red lip, this would have been one of my favorites of the night. Although the dress is covered in spikes, in photos this just comes off as nude on nude and when you have fair skin and blonde hair some extra color is needed with a look like this. But I give her an A for effort (well, an A-).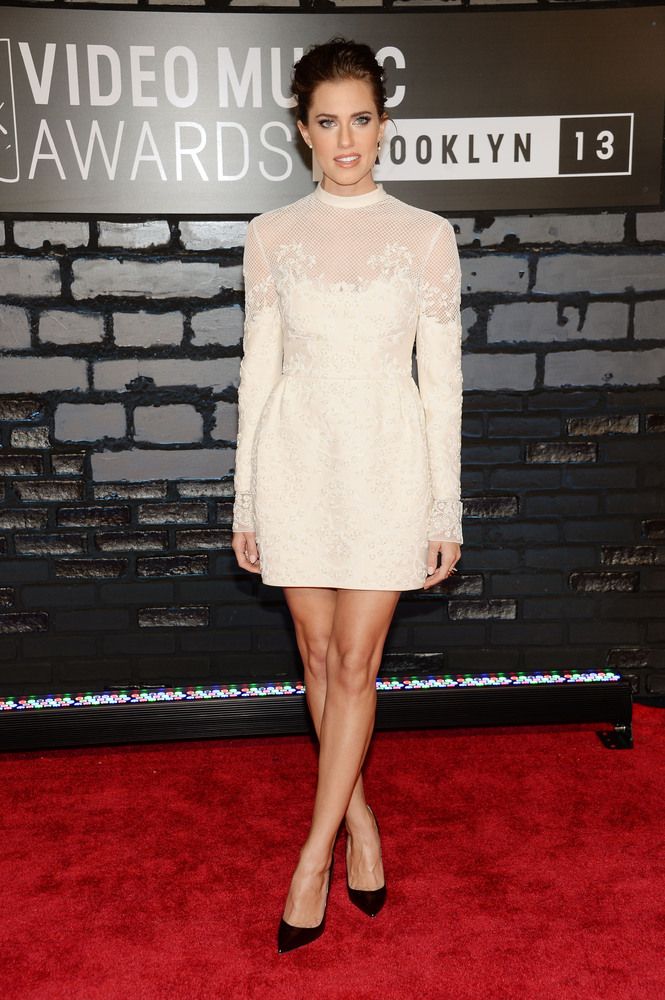 Allison Williams in Valentino
Is she Marni in real life? Because Marni would totally wear a conservative Valentino dress and ladylike black pumps to an event where people are wearing skintight leopard and completely sheer dresses.
—
What were your favorite (and least favorite) red carpet moments at the VMAs last night?
Images via Huffington Post
You might want to check out...