The VMAs are that one awards show that makes me feel super old, but I watch anyway because I enjoy a good choreographed dance and a little sparkle (plus when you see all those memes the next day, don't you want to know what they're all about?) Although the VMAs tend to bring out everyone's inner tacky, there were some pretty amazing moments on the red carpet last night (actually quite a few best dressed picks…can you believe it?!)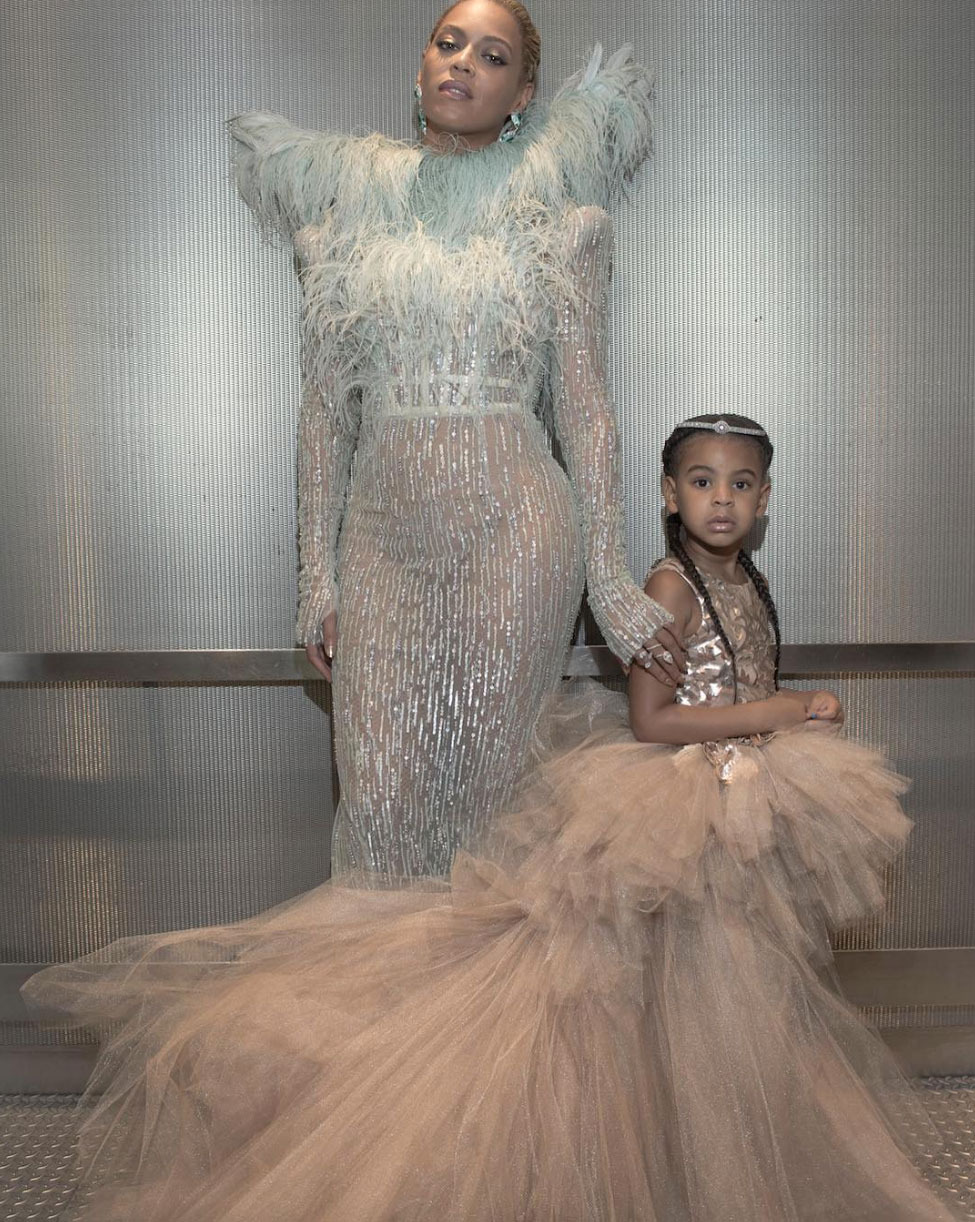 Side note, does it not look like someone Photoshopped Jay-Z's face on Blue Ivy? THEY ARE IDENTICAL.
Now there were of course some WTF looks last night that I'm not even going to bother writing about (because I'm sure you already know my opinion on a Teen Mom in costume and a bomber jacket with nothing underneath…except a pregnant belly), but that doesn't mean you're not going to get a jaw drop or two from this post (and not necessarily in a good way). As far as the actual awards show went, it was 100% worth watching all the nonsense just to see Beyonce perform. I'm not as obsessed with her as most people are but her performance was INCREDIBLE. The fact that she didn't close the show and several acts had to follow her (including Britney…who I think would actually lose on Lip Sync Battle) is just plain mean. Kanye did Kanye for 4 minutes. Rihanna performed quite a few times throughout the night and Drake basically almost proposed to her (the outfits would have been on point for a surprise wedding, no?)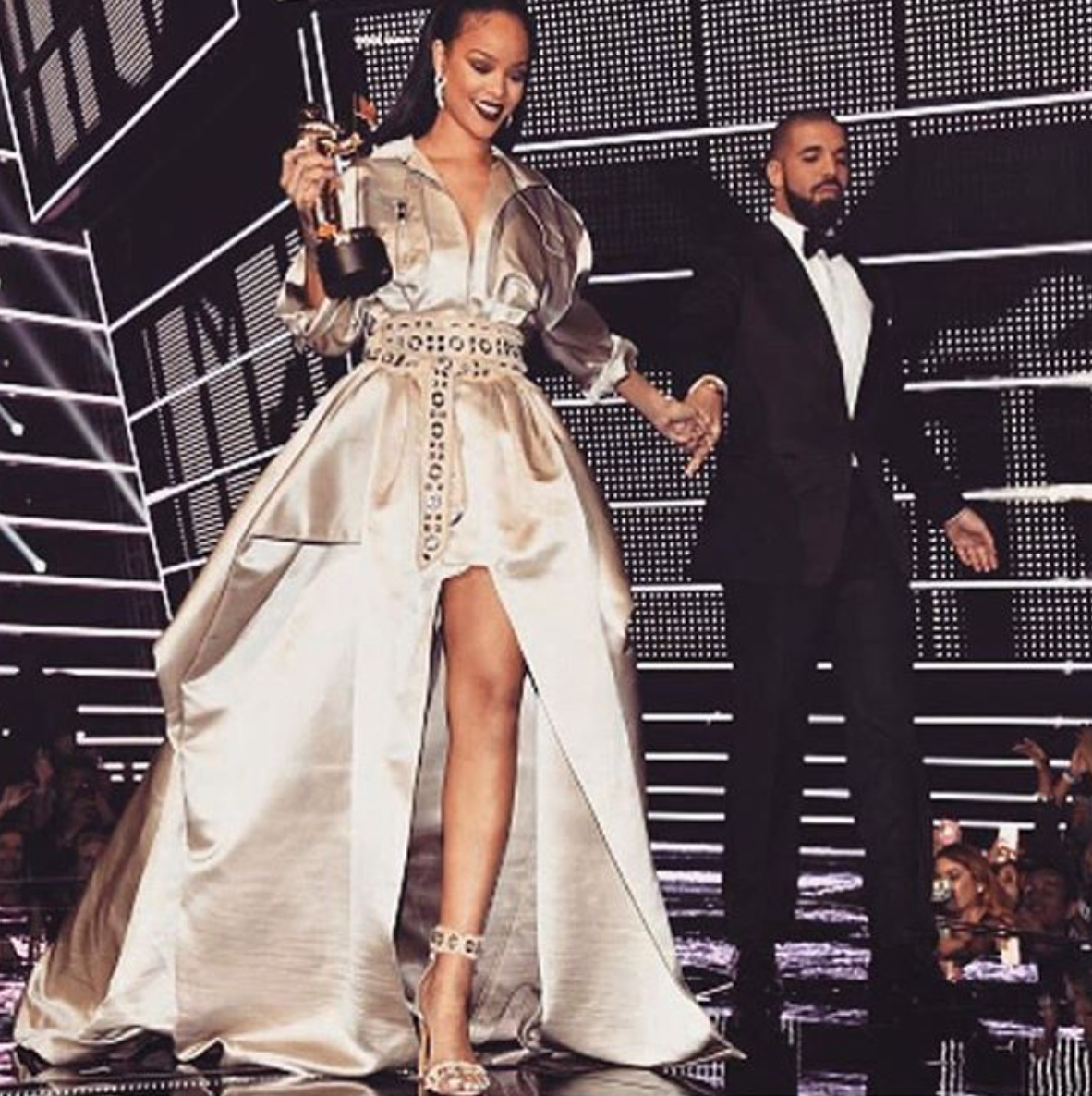 So that's all you need to know. Now let's get to the good stuff. The fashion…(or the FASHUN).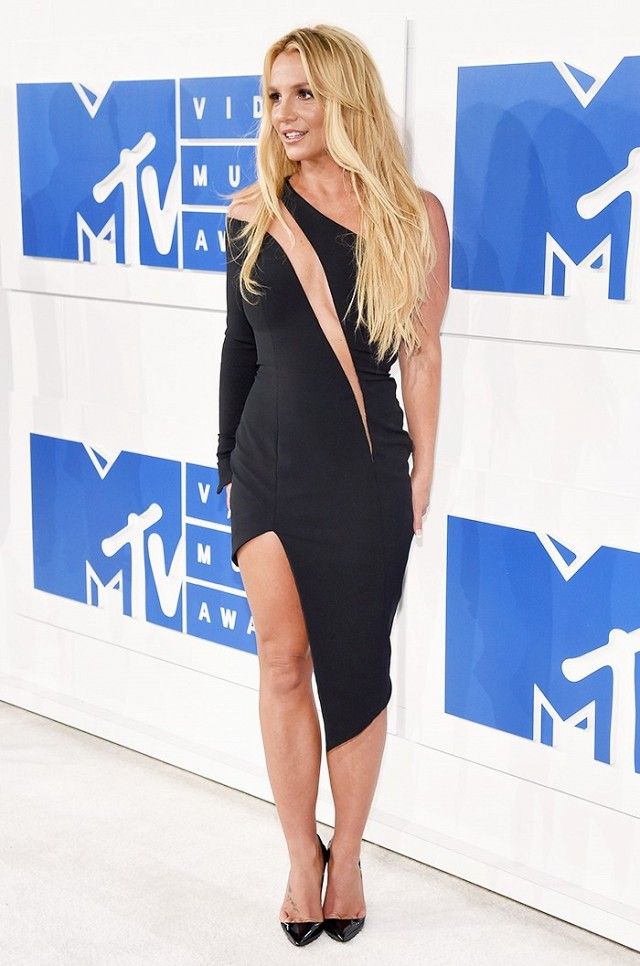 Britney Spears in Julien MacDonald
Although this dress is nothing new, it's probably the best Britney has looked at an awards show in a LONG time (probably since she shaved her head).
Ashley Graham in Naeem Khan
We have seen a ton of the naked dress in the last couple of years but it's refreshing to see it on a plus girl (who is probably rocking it better than any sample size). SLAY, Ashley. Slay…
Ariana Grande in Alexander Wang
If you're going to wear extensions, why would you choose ones with a bad ombre job? It's a cute outfit but I'm just too distracted by that bad hair.
Amber Rose in Tom Ford 
I SEE YOU AMBER (and if you didn't watch last night, you won't understand) — and you are KILLING IT. You really never know what this girl is going to wear and I love that she went for a sophisticated look (but of course with an Amber Rose twist). Unexpected yet effective. I'm typically annoyed when celebs wear sunglasses on the red carpet but with her buzzed hair, the red lip and the mirrored sunnies, I am totally willing to make an exception for that on point combo.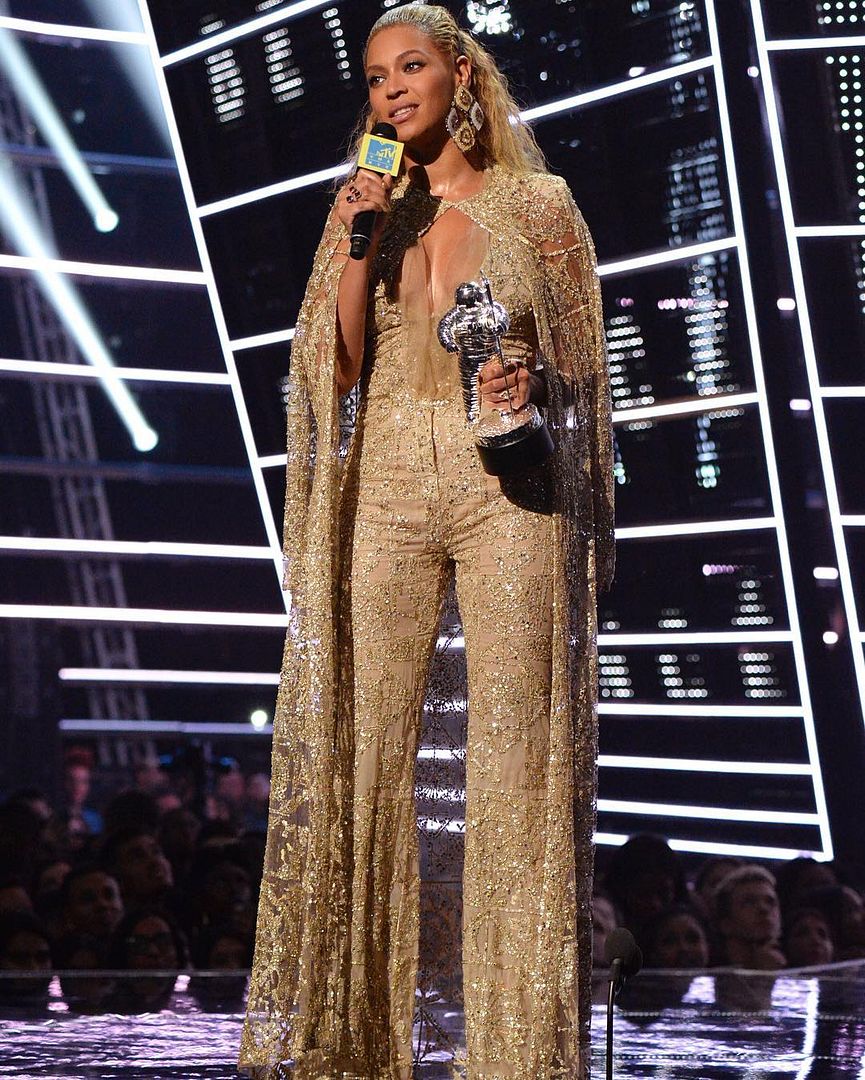 Beyonce in Elie Saab Couture
Best Dressed Pick
And now a series of Beyonce photos — here's Beyonce looking like the golden goddess she really is (also thinking I should wear something like this but maybe not as sparkly, and in white, for my wedding…thoughts?)
Beyonce in Francesco Scognamiglio Couture
And here's Beyonce looking like the angel she really is.
Beyonce in Yolan Cris
Beyonce reminding Jay-Z they committed to spend the rest of their lives together. Just sayin'.
Dascha Polanco in Yuna Yang
2016 or 2001?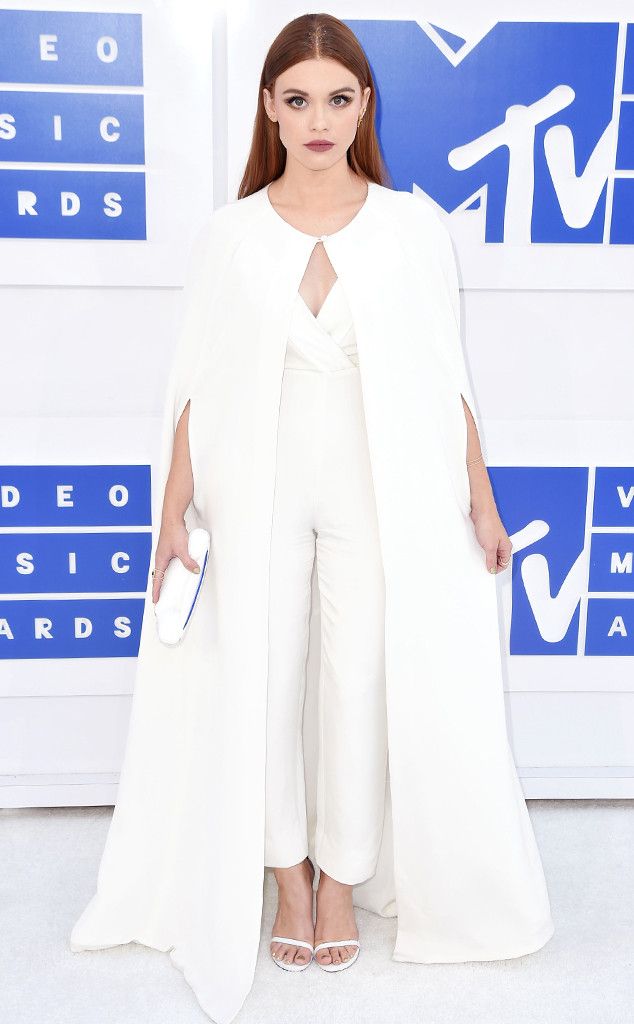 Holland Roden in Kayat
So maybe this is what I should get married in…
Jojo in Thomas Wylde top Erika Cavallini pants
Yikes.
Naomi Campbell in Brandon Maxwell
From the neck down it's pretty forgettable but I will NOT be forgetting those Pat McGrath lips (so good!)
Aly Raisman, Madison Kocian, Laurie Hernandez and Simone Biles
From leotards to the red carpet — THESE GIRLS LOVE TO SPARKLE.
Stella Maxwell in Moschino
For any other occasion I'd be like HELL NO but for the VMAs I might just be feeling a HELL YES.
Justine Skye in Missoni
I am really digging this fringe cape situation…but I just wish it was paired with a different shoe!  The pink pump does nothing for this…a cool black shoe would have made this look (some crazy ass Alaias would have been, as DJ Khaled beat into our heads last night, MAJOR KEY).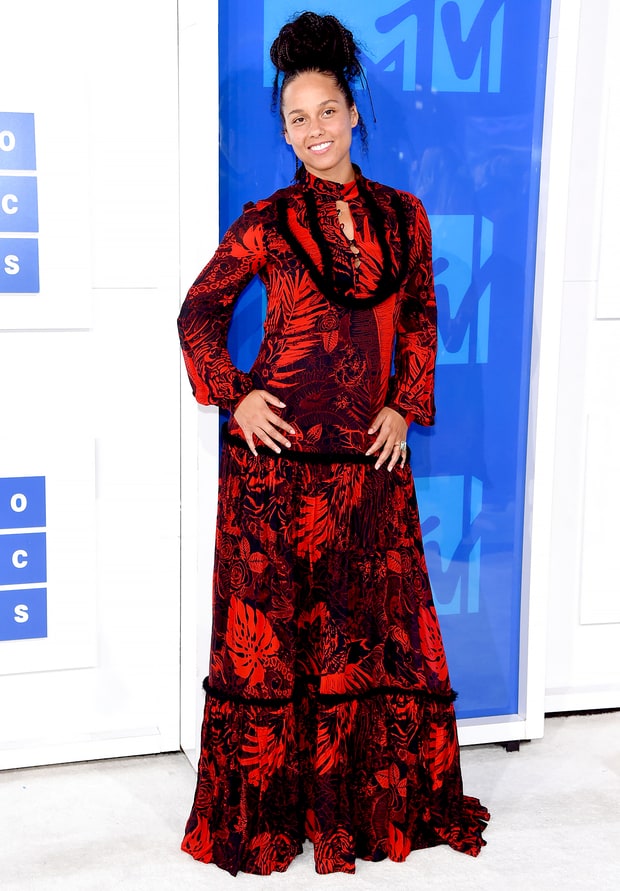 Alicia Keys in Just Cavalli
I'm not necessarily a fan of the dress but I AM a fan of the no makeup look (whether it's the "look" or she's actually not wearing any…I appreciate it).
Nicki Minaj in Bao Tranchi
I don't actually like the dress but regardless, she looks UNREAL.
Heidi Klum in Roberto Cavalli
THE tackiest event of the year and it's the least tacky she's looked post Seal…I don't get it.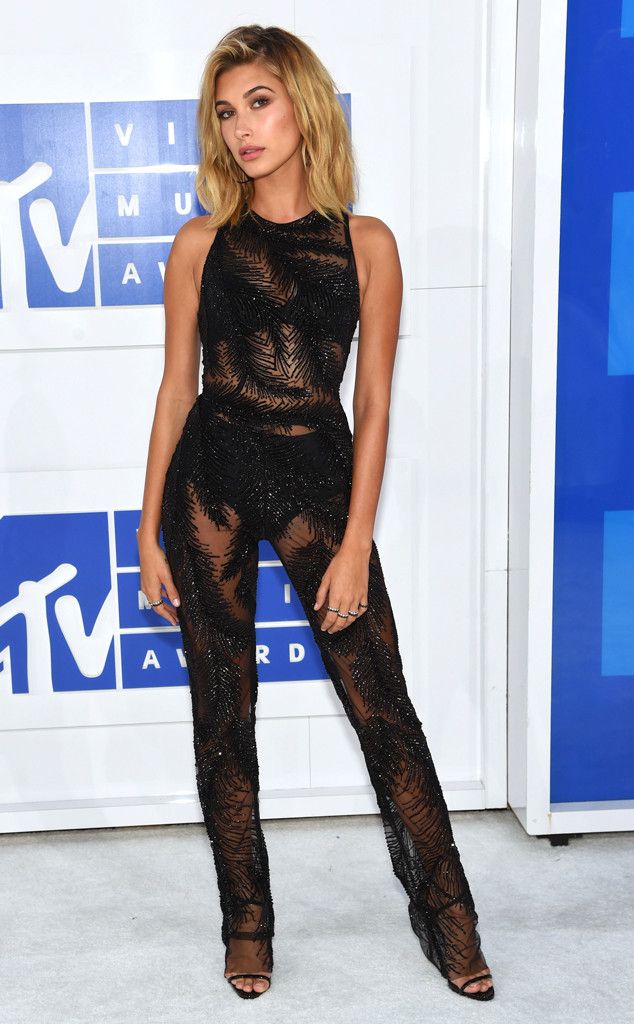 Hailey Baldwin in Georges Chakra
The naked jumpsuit is the new naked dress.
Cassie
Giving a whole new meaning to highlighted hair (like it literally looks like someone took a yellow highlighter to her head). I guess if you're going for that office to the club look (but mostly to the club) then Cassie nailed it!
Chance The Rapper in Sheila Rashid overalls + Publish jacket
Best Dressed Pick
No big deal that Fashion Friend Whitney Middleton styled Chance for the VMAs…and put him in Chicago designer Sheila Rashid. I'm freaking out right now so I can't even imagine how Whitney & Sheila feel. I'm not super into mens fashion but this is EVERYTHING.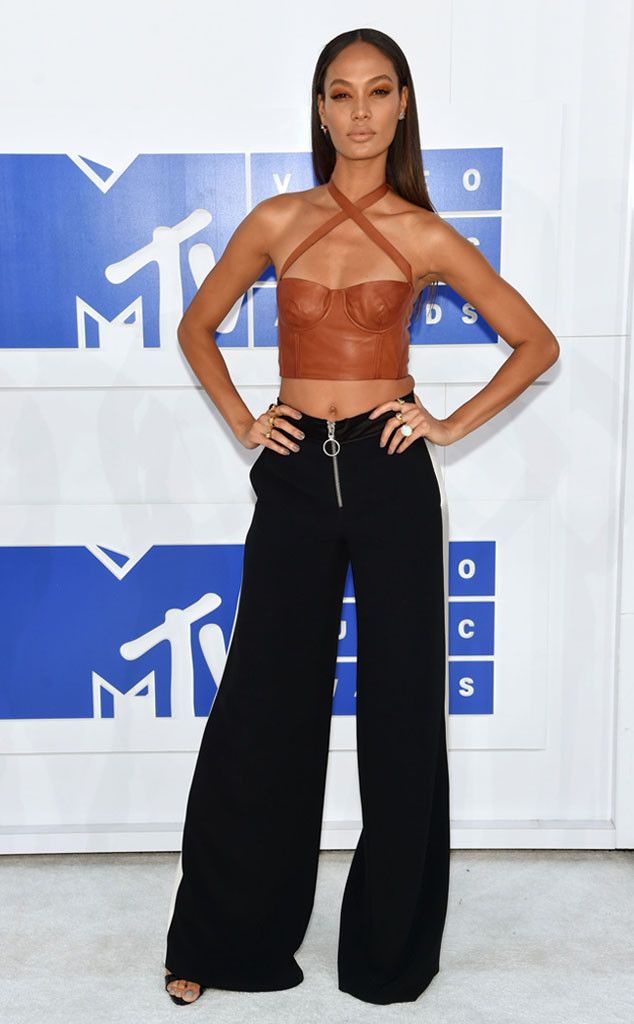 Joan Smalls in Off White
Best Dressed Pick

I don't think I've ever seen Off White on the red carpet before so that's pretty exciting. And although this is one of those many VMAs looks that could've appeared on the red carpet in the early to mid 2000s (which is typically not a compliment) I actually love everything about this. It doesn't hurt that Joan is chic AF by nature…
Kim Kardashian in Vintage John Galliano
Best Dressed Pick
Let me kick this off by saying that I hate ruching (like with a passion) and I'm not a fan of the Kardashians (only Kylie Lip Kits)…yet I fucking love this. Do you understand how hard that is for me to admit? I like that it's kind of casual (and I don't think it's meant to be off the shoulder but it's a nice touch), you know I love that wet hair and the shoes / accessories are just the right amount. Assuming we have Kanye to thank for this so…? Mr. West.
Quvenzhane Wallis in Cinq à Sept
I like the idea but it's just a little too much (the collar, the jewelry, the ruffles, more jewelry, the shoes and even more jewelry). BUT I'm not mad at it…
Chloe And Halle in Rodarte
Best Dressed Pick
No idea who they are but now I definitely want to know…
Tove Lo in Dion Lee
Definitely pumped to see one of my favorite Aussie designers on the red carpet. I'm into the dress, however, it does appear quite large. If it's supposed to be that way, this would look better with a high shoe. I'm so down with those sneakers (do you think Reebok will be the new Adidas now??) but not with this particular look.
Taylor Hill in Moschino
Another one of those instances where you can play "guess what year this is from?" in ten years from now and I could be 2005 or 2016 (although that would make her 9 but you get it).
Rita Ora in Marc Jacobs
Best Dressed Pick
I love that this is wacky, ridiculous and over the top (so, perfect for the VMAs) but it's not your typical sparkly, trashy VMAs outfit. Not many could pull off a straight from the runway Marc Jacobs Fall 2016 look but leave it to Rita to do it justice.
Halsey in Yousef Al Jasmi
Not groundbreaking for such occasion but she looks GOOD.
Hailee Steinfeld in Balmain
Damn girl.
Rihanna in Alexandre Vauthier
Was pretty shocked to find out this was Alexandre Vauthier (considering it's not fitted, with a slit up to there and / or cut outs) but it's the ideal look to close out the night with an almost Drake proposal.
—
Who had your favorite looks at the VMAs this year? Least favorite? Don't be shy now…
Images via The Cut & E!
You might want to check out...