I haven't been much of a pink fan since high school (and by pink I don't mean Pink). Really because it reminds me of Paris Hilton saying "that's hot" while accessorizing with something shiny and/or designer monogram, BUT for Fall 2014…looks like I have to see beyond The Simple Life and get creative with some pops of pink.
Wang, Altuzarra and Thakoon are just some of the few incorporating this bright hue into their Fall collections. With fashion month officially half way over, I'm curious to see if the pink trend will show up in Milan or Paris in the next couple of weeks.
In the mean time, let's just appreciate the fact that it's Wednesday (although technically Thursday in my [temporary] neck of the woods). And on Wednesdays…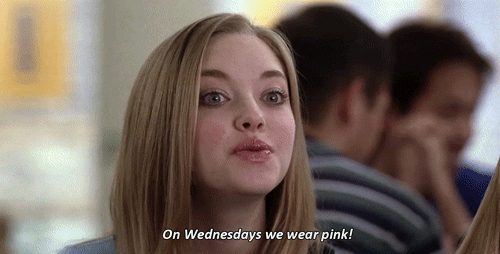 You know I had to.
Anyway, will you find me in a solid hot pink dress come Fall? Perhaps (only if it's oversized, though). Until then, I think it's fun to incorporate some happy colors (such as hot pink…not to be confused with haute pink) into your wardrobe in this dreary/depressing/when's-it-ever-going-to-end time of year.
Will you be wearing some pops of pink next season? If the answer is yes / you just can't wait 'til Fall…
Images via Style.com & Mean Girls Gifs
You might want to check out...